Roof Cleaning Blackburn
Roofs are more than just a sheltering structure. They play a crucial role in enhancing the visual aspect of your house. If you want your house to be in its best shape, a clean roof is imperative. Call our team of Blackburn roof cleaners today and enjoy our premium roof cleaning service to the fullest!
If you are in Blackburn and want to give your roof a good makeover, Just Clean is just what you need. We are an industry-leading company specializing in a plethora of high-end cleaning services like soft wash and jet wash techniques.
Are algae and mildew weakening your roof? Get them cleaned today!
Algae, mildew, fungus, and molds are some of the many names that infest your roof and puts your safety at risk. The problem is, these infestations are unavoidable in many cases. However, you can take proper maintenance measures to prevent them from spreading and causing serious damage to your roof. This is where our professional roof cleaning service comes into play.
If you are anywhere near Blackburn, you can benefit from our unique cleaning service. We also cover all accessible surrounding areas so you can take a sigh of relief! Your dream of achieving a pristine roof is just a call away.
We offer a diverse range of cleaning service that caters to the needs of all modern roofing materials. Take a look at some of our key roof cleaning offerings.
Low-Pressure Cleaning
Low pressure, aka jet wash cleaning, is suitable for those situations where you need to remove some rather tenacious stains. These algae and mildew stains are mostly a result of prolonged maintenance negligence. The low-pressure jet wash equipment removes all your roof stains without breaking a sweat. After removing the physical stains and debris, we give it a thorough fungicidal wash. This will help remove all the invisible pests.
Manual Roof Cleaning
In manual roof cleaning, we begin by inspecting your roof. Our team of experts examines every nook and corner of your roof and takes pictures of certain areas that require special care. We will walk you through the cleaning process before proceeding.
Once you approve of our cleaning strategy, we will begin by removing moss, algae, dead leaves, and other similar debris. Our cleaning experts take great care to sniff out and remove all visible dirt and debris, even from the tricky bends and corners. For the final act, we clean your roof with a fungicidal wash to kill the pests from their roots.
Low-Pressure Soft Wash
Low-pressure soft wash is a modern cleaning solution that helps in cleaning and sanitizing your roof. Unlike other conventional roof cleaning methods, soft wash uses a combination of mild detergents and a gentle rinse technique. The result is that you get a spotless-looking roof without causing any physical harm. The soft wash kills the spores and stops fungal growths from its root.
As a result, soft wash offers an effective future-proof solution. Also, since it does not cause any damage to the roof slates, you can use it on aging roofs.
Why Choose Just Clean Roof Cleaning in Blackburn
Exceptional roof cleaning at an unbeatable pricing
You will witness a noticeable visual difference before and after our cleaning service
Our diverse list of cleaning solutions cover every type of known roofing issues
The extra waterproof coating offer sublime protection against potential fungal growth
All shingles and cement works are left secure and sturdy in their respective places
Request a Quote
Want to get started with our professional roof cleaning service in Blackburn? Just give us a call on 01925 223547 now!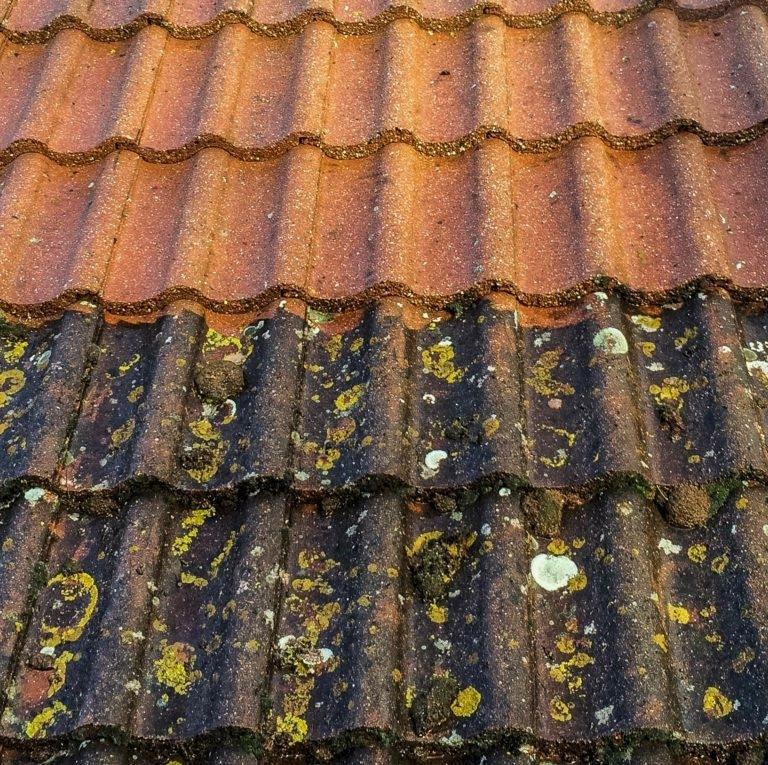 Before and After Roof Cleaning
Before
After