Roof Cleaning Bolton
Wondering why your roof in your Bolton home is looking notoriously old and dilapidated? It could be because of algae, moss, lichen, and grime taking shelter in your roof! But worry not: there is always a solution for that when you have Just Clean services by your side. 
A Bolton-based roof cleaning company, we specialize in services like manual roof cleaning, soft washing, and jet washing. So, if you would like to give your roof the shine and treatment it deserves, we are just one call away! Contact us today, and you may be entitled to receive a free quote. 
Moss and algae taking refuge in your roof? Time to clean the mess
When it comes to roofing, concrete roofs and clay-tiled roofs look pretty and decent. However, these kinds of roofs face one major issue over the years. Due to long exposure, these roofs tend to become permeable. Then it starts to get infested with grime, lichen, moss, algae, and what not. Once they start making the roof their home, it leads to clogged gutter and may even hamper the roofing materials. 
Cleaning your roof on your own will be such tedious work. And, let's be honest, you might not be able to do a good job! So, why not let the roof experts handle it? Yes, Just Clean services will always be at your service. With affordable pricing and efficiency, you know you are in good hands with Just Clean!
Even if you are not from Bolton but somewhere nearby, don't worry! That's because our team of professionals even covers the neighbouring areas of Bolton.  
What you can expect from Just Clean in Bolton
Low-Pressure Cleaning
Low-pressure cleaning is supposed to be more efficient than high-pressure cleaning. That's because the latter may cause some damage to the roof due to the intensity of the pressure. 
On that note, Just Clean uses jet wash equipment of the highest quality for low-pressure cleaning. This way, you will notice that your roof is entirely and efficiently cleaned! The high-quality jet wash will help in eliminating all the algae, grime, lichen, and moss within minutes. After the low-pressure wash, we will treat your roof with chemicals like a fungicidal wash. This will help ensure that your roof stays moss-free for a long time. We will also seal your roof for additional protection. 
Low-Pressure Soft Wash
Another low-pressure service we provide is the soft wash cleaning method. We commence this service by getting rid of all the unwanted organisms like algae and moss. And that's not all. We make sure to clean the whole roof so that it looks as good as new. 
With the soft wash treatment, you can be sure that your entire roof is left clean and sanitized. It will also treat the root cause of the organisms' growth and exterminate the spores. This way, in the end, you will be looking at a beautiful roof that lets your home stand out!
Manual Roof Cleaning
When it comes to manual roof cleaning, it's very clear: We clean your roof manually! To start with, we will check the entire roof and take some photos. We will then discuss the problems with you so that you are also aware of what we are dealing with.
After that, we will start this service by carefully removing all of the unwanted organisms and objects like grime, moss, lichen, algae, birds' mess, etc. After all the manual removal, we will give your roof a fungicidal wash treatment. 
Why choose Just Clean for roof cleaning in Bolton
You get a clean and beautiful roof without even the slightest trace of moss, lichen, and algae 
When it comes to the tiles and cement works, all of them are left untouched
You can see a big difference on your roof after our services
Coating gives maximum protection as well as waterproofs your roof
You get to give your roof a complete makeover at an amazing price
Request a Quote
It's simple. Just call on the number 01925 223547 and witness your roof getting all sparkly and clean with our effective and efficient roof cleaning service in Bolton!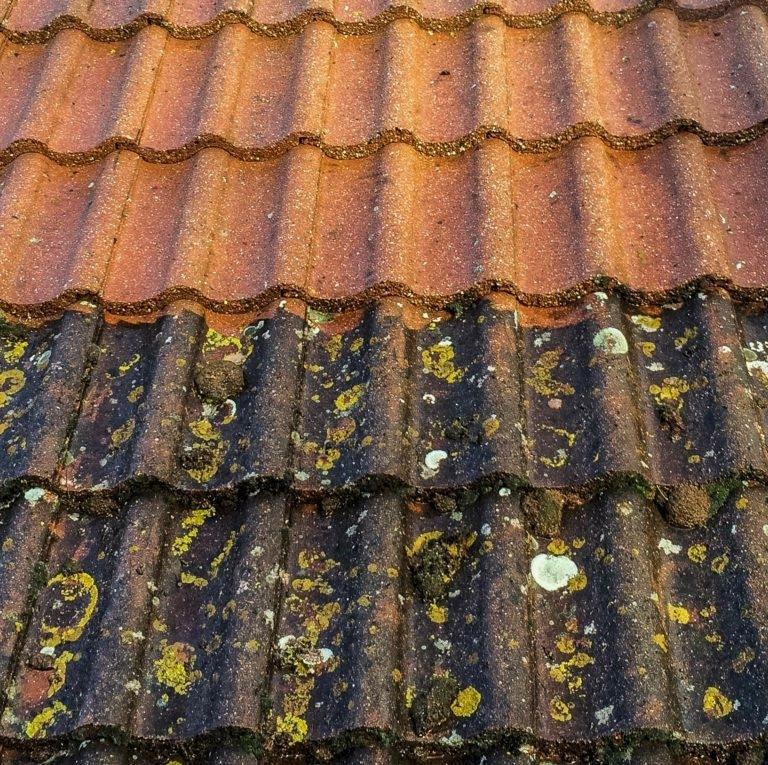 Before and After Roof Cleaning
Before
After