Roof Cleaning Bury
Owning a beautiful Bury home is not only about interior beauty. In fact, to call a home beautiful, the exterior is very important. So, what do you when you see algae, moss, and lichen happily taking refuge in your roof? You call Just Clean roof cleaning services! 
Whether you want to repair or clean your roof, you can rely on Just Clean company to do the job. Based in Bury, we provide different services like soft washing, jet washing, and manual roof cleaning. We also go to the extent of providing services in the neighboring areas too. Amazing, isn't it?
So, make up your mind already and hire our professionals to repair your roof today! If you contact us this instant, you might be lucky enough to get a free quote.
A mossy roof is a sign of having it cleaned
Sure, having a roof overhead is a blessing. But the problem arises when it gets manifested with algae, moss, grime, and lichen. This is a result of the roof, which is mostly concrete and clay tiles, becoming porous over the years. And when these tiny organisms settle in your roof, it leads to clogged drainage and damaged tiles.
You know you have to do something about this before it's too late. But why go through the tedious ordeal alone when you have Just Clean services waiting for you? We are an affordable roof cleaning company and will make sure that you get exactly what you deserve- a beautiful, shiny roof!
What are the services we provide?
Low-Pressure Soft Wash
One of the services we provide is the low-pressure soft wash cleaning method. Here, we get rid of the moss and algae while also completely cleaning the roof. With the help of the soft wash, the root cause of the bacterial growth will be identified and treated while also killing them entirely. This method is a safe method to clean and sanitize your roof, the result of which is amazing and splendid!
Low-Pressure Cleaning
The low-pressure cleaning method utilizes high-quality jet wash equipment. This way, it cleans your roof's surface without any trace of the algae, grime, and moss thriving there. After the jet wash, our professionals will give your roof a fungicidal wash treatment and then seal it for additional, lasting protection.
Manual Roof Cleaning
We also provide the good old manual cleaning services! In this case, our professionals will examine the roof while also taking some photos. After that, we will address the concerns to you before the commencement of the service. 
This service will begin with meticulous removal of all the moss, algae, grime, and other unidentified objects. Once all of them are manually removed, we will provide the roof with a fungicidal wash treatment.
Why you need to choose Just Clean roof cleaning services in Bury
We offer great value and price among all other companies in Bury
You get to see a big difference before and after completion of our services
All of the roofing materials like tiles and cement works will stay in place
We will clean your entire roof thoroughly with no sightings of algae, moss, lichen, and grime
Perfectly coating your roof makes your roof tiles waterproof and provides ample protection
Request a Quote Today!
You don't really have an excuse not to try out our services, do you? If that's the case, make haste and call this number 01925 223547 today! Our professional team of roof cleaners will make sure to clean and treat your roof exactly the way it should be!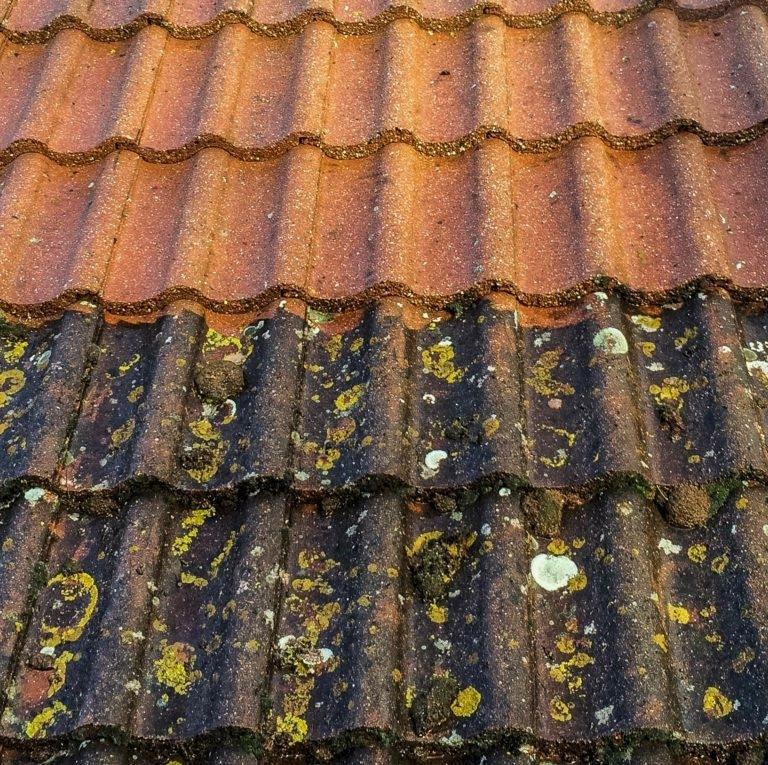 Before and After Roof Cleaning
Before
After