JUST CLEAN PROPERTY CARE PRESTBURY
Our Pressure Washing service
In Prestbury, our team of experts specialises in high-pressure jet wash cleaning services that take your property's exterior to the next level. Our efficient and speedy jet washing techniques produce results that are far superior to your average jet wash. We understand that every property has unique cleaning requirements, which is why we offer customisable and adjustable nozzles to tailor our services to your specific needs. Whether you need your stone wall blasted with high-pressure jets or your garden fencing treated with a soft pressure wash, our team is equipped to handle any job. Say goodbye to the hassle of DIY pressure washing and let us help you achieve unmatched results with our professional jet wash cleaning services in Prestbury.
Pressure Washing is used for multiple surface types
In Prestbury, pressure washing is an effective way to get rid of stubborn fungus such as moss, algae, animal waste, and stains from your driveway and more. Our team of professionals delivers a thorough and effective service that will leave your property looking pristine. However, we also understand the importance of affordability, which is why we keep our rates competitive and fair for all. You can expect both great results and a reasonable price with our pressure washing services. From driveways to patios, we cover a wide range of exterior surfaces to ensure that your property looks its best. Say goodbye to unsightly stains and unwanted grime with our affordable and efficient pressure washing services in Prestbury.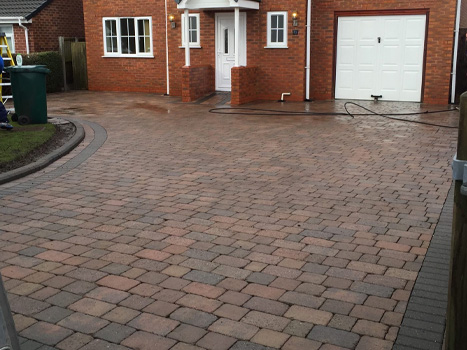 All the need to know information for Pressure Washing
In addition to the ones mentioned, there are numerous other applications for pressure washing cleaning in Prestbury. Check out our FAQ videos to learn all the essential information and then contact us to schedule a service today!
Why choose
Just Clean Property Care for your Pressure Wash Cleaning
Our experienced team of pressure wash cleaning professionals have the knowledge and skills to provide top-notch pressure washing services with a level of professionalism that you can trust.
Our team uses the most advanced pressure washing techniques to ensure that you get the best results possible. We use industry-leading tools, materials, and techniques to guarantee that every job is done properly.
We know that you don't want to spend a fortune on pressure wash cleaning services, which is why we are able to provide our services at a value-for-money rate to ensure customer satisfaction. 
4.Satisfaction Guaranteed
With no negative reviews we ensure that all of our clients are happy with the service they receive and come back year after year. 
Why do so many customers return for our Pressure Wash Cleaning
Our pressure wash cleaning services in Prestbury are simply unmatched in terms of quality and affordability. We are committed to delivering the highest standards in the industry, ensuring that your driveway is left flawlessly clean after our service. At a fair price, we guarantee that our customers receive excellent value for money. It's no surprise that many of our satisfied customers come back to us year after year. Experience the difference with our exceptional pressure washing services today!
Real testimonials from real people
Slide to see Amazing Results
Download our FREE Leaflet to find our more information!
Other Services
Just Clean property Care has an expert team, which service a vast range of property cleaning. See our other services below.
Tile Stone Grout Cleaning
To help you protect your long-term investment, we will provide you with our expertise to resolve every challenge involved with restoring all hardwood or tile flooring. Click to find our more information on our floor cleaning services. 
Is the roof looking unsightly? Is it covered in moss, algae, or lichen? Hire our professional roof cleaning services. Click to read more about the service
It's important to have your Conservatory cleaned to protect it from dirt, grime, debris and staining which can lead to damage or deterioration of your Conservatory if not dealt with.
We use high-end tools to ensure the job is done quickly and cleanly. We don't leave any dirt and debris behind. We clean every part of the gutter to eliminate the chances of the algae and moss coming back.