Roof Cleaning Prestbury
Our roofs are exposed to the fury of mother nature all the time. So, it's no wonder they get infested with dirt and grime. And cleaning them is not something we are all particularly fond of. But we need to consider cleaning our roofs once in a while.
If this is the case, do not panic. Our professional roof cleaners are at your service. Residents of Prestbury can now get premium cleaning services with Just Clean roof cleaning services. We provide several cleaning options, such as manual or jet cleaning.
If you call us now, we will get your roof cleaned and good as before.
Is Your Dirty Roof Spoiling Your House Appearance? Have It Cleaned Today!
You might think your roof is there just to protect you from dirt, rain, and wind. Well, you have to discard that thought. Roofs do much more than that. They are perfect insulators of heat. Plus, they help maintain the optimal temperature in your home. So, you might want to reconsider investing time and money in cleaning your roof. 
Due to constant exposure to moisture and heat, our roofs lose their rigidity over time. Different weather conditions, along with dirt and debris, cause dents, cracks, spots, etc. Thus, it is essential to take care of our roofs with routine maintenance. 
Repair jobs are also not the best option. Such services will burn a hole in your pocket with fees of up to £300 and £1000. Of course, you want the best solution to your problems. But you also want to save money at the same time. 
That is why we recommend our roof cleaning assistance. We will go easy on your pocket and provide you with a better roof to live on. What more could you ask?
Give us a call and get your quote at no cost. Yes, you heard that right! We cover all areas, and this includes Prestbury as well.
Our roof cleaning services
We always strive to provide a hassle-free solution to all your problems. And to convince you, here are some essential facilities you will get from us.
Low-Pressure Cleaning
You can say goodbye to all the dirt and smudge on your roof. Thanks to the low-pressure cleaning service we have. We have professionals handling all our cutting-edge tools and facilities. 
This robust equipment can take care of all the awful junk, making your roof spotless—no more moss or algae.
Low-Pressure Soft Wash
With a low-pressure soft wash, you will get the best cleaning possible. It is a step ahead of your regular low-pressure cleaning. We trace every part of the roof and spray sanitisers leaving your roofs germ and dirt-free with this option. 
And you don't have to worry about moulds and rot coming back. A low-pressure soft wash essentially uproots all traces of rot or decay. You don't have to worry about that funky smell anymore.
Manual Roof Cleaning
With manual cleaning, we follow certain steps to ensure your roof gets a makeover. To start this off, we will study every side and click a few pictures for reference. Then, we lay down our plans to develop the best solution.
Once you give us the green light, we begin cleaning, starting with larger wastes. Spraying water or chemicals beforehand will only cause further problems and delays. We want to clean your roof, not get your gutters congested. And we do all this by hand.
After completing this, we will give your roof a thorough cleansing. This takes care of all the small and leftover clutter, leaving you with a smile and a fresh roof.
Why Choose Just Clean For Roof Cleaning In Prestbury
No dirt and grime left behind. Just a spotless and sterile roof. 
Affordable rates 
Everyone in our business is family. You can trust us completely. 
Professionals with great workmanship 
An additional waterproof coating so that your roof lasts longer 
Compare our before and after pictures. You will know what we are all about. 
Request A Quote
Just Clean roof cleaning service is just a phone call away. Prestbury homeowners can contact us any time at 0800 7720 440.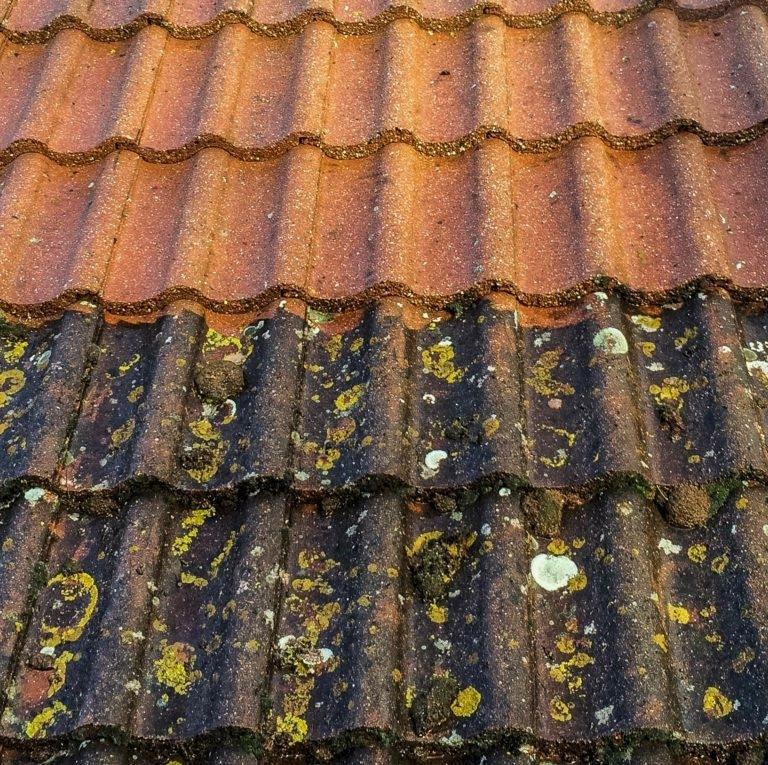 Before and After Roof Cleaning
Before
After