Roof Cleaning Golborne
Want to protect your home investment? Start by cleaning your roof. Your roof can make or break your life worth of investment you shell out on your property. A dirty and moss-covered roof can be a huge turn off for any potential buyers. Hire our roof cleaning experts in Golborne today and protect yourself from all such uncertainties.
We are a professional roof cleaning company based in Golborne. We specialize in various modern roof cleaning solutions, including soft washing and jet washing techniques.
Are moss and algae infesting your roof? Call us and have it cleaned today!
Moss, algae, fungi, mold, and mildew – these are all the things that are wrong with your roof! These vegetations slowly sprout out of your roof shingles and reduce its lifespan. Thus, it is imperative to clean your roof on a routine basis without fail. The root cause of these unwanted foreign objects is due to weathering effect.
If you neglect cleaning these vegetations, it can cause severe damage to your roof and add to the repair cost. So, unless you have deep pockets, it is more sensible to hire professional roof cleaners and have them remove such debris from time to time.
If you fancy a simple and hassle-free roof cleaning solution, our maintenance service is just the thing for you. Our professional roof cleaning service in Golborne is just a call away! We are also pleased to say that our cleaning service is also available to all neighboring areas of Golborne.
Contact us today to get a free quote and our service availability in your area.
Our Roof Cleaning Service
At Just Clean, we pride ourselves on offering a wide range of roof cleaning solutions. No matter how severe your roof condition may be, our experts help clean it spotless. Take a look at some of our key features.
Low-Pressure Cleaning
Low-pressure cleaning is arguably one of the most popular choices for many homeowners. This type of cleaning technique uses low power pressure water to get rid of algae and moss stains. It is best suited for situations where you might have neglected your roof maintenance for a long period. The high powered jet wash removes all traces of fungus and algae black streaks with ease. Lastly, the fungicidal wash disinfects the roof and leaves an additional layer of moisture-resistant seal for extra-long life.
Low-Pressure Soft Wash
Soft wash is a gentle yet extremely efficient technique for cleaning your roof. This type of wash does more than just clean up your roof's mess. It also helps sanitize and eliminate the root cause of all the roof-related issues. This is mainly due to the use of powerful disinfectant solutions that helps in killing a certain bacteria called Gloeocapsa Magma. As a result of low-pressure soft wash, you can get a truly clean roof, free from any hidden threats.
Manual Roof Cleaning
Manual roof cleaning is exactly what it sounds like! In this type of cleaning technique, we manually remove the clumps of dead leaves, twigs, and lichens by hands. However, for this, we have to examine the condition of your roof first to see if manual cleaning is possible. Once we are done removing the debris, we treat your roof with a gentle fungicidal wash. This will kill off all kinds of microscopic bacteria that are otherwise not possible with manual cleaning.
Why Choose Just Clean Roof Cleaning in Golborne
High-end roof cleaning service at a reasonable cost
Effectively cleans and disinfects your roof from all bacterial threats
Leaves all your roof tiles and cement works intact
All standard roof cleaning solutions available
A significant visual difference before and after our cleaning service
Request a Quote
Contact Just Clean at 01925 223547 and get the benefits of our market-leading roof cleaning service today!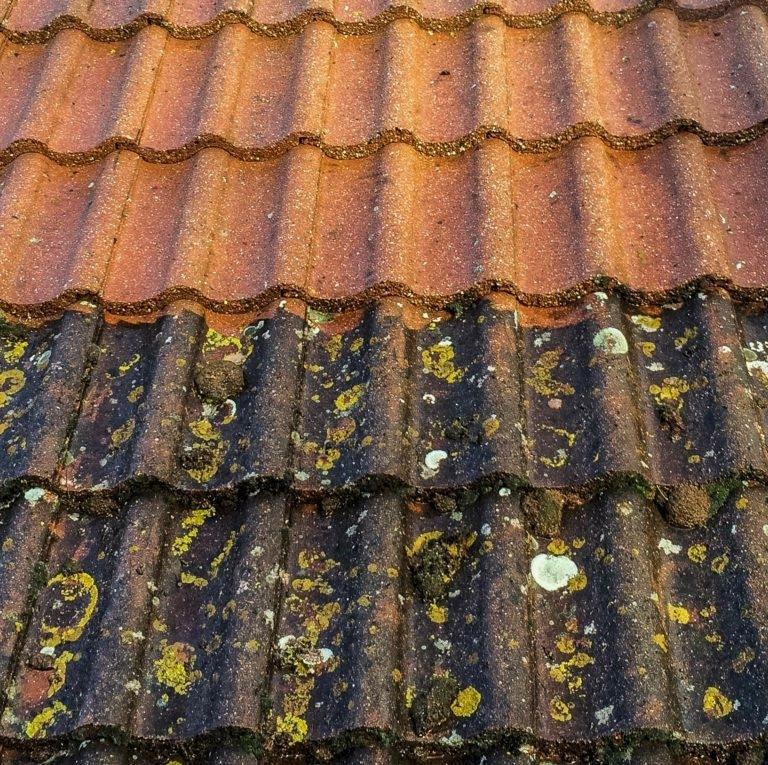 Before and After Roof Cleaning
Before
After