Roof Cleaning Hale
No matter how beautiful your Hale home is, you can't ignore the fact that algae or moss are accumulating on your roof. So, what do you do at such times?
Simple! Give us a call and find your roof getting a splendid makeover! At Just Clean, you can hire professional roof cleaners that specialize in soft washing, manual roof cleaning, and jet washing! 
Is your roof covered in Moss?
There is a major common problem that all homes with clay-tiled and concrete roofs face: Moss. Yes, these roofs tend to collect lichen, algae, or moss with time. The reason behind this is that over the years, the roofing material tends to become permeable. And when this happens, you will experience blocked gutters and some damaged tiles. 
In order to save yourself the trouble, you can always contact Just Clean, a professional Hale based roof cleaning company. If you contact us this instant, you might be entitled to a free quote! And that's not all: we also go the distance to showcase our professionalism by covering local surrounding areas as well!
Roof Cleaning with Just Clean
Low-Pressure Soft Wash
This method is a highly effective and safe low-pressure method of cleaning. With this service, we ensure to clean and sanitize your roof. But we're not visiting your home only to remove the unwanted substances: we clean the entire roof, too! Yes, when we leave your home, you will find your roof to be sparkling clean!
As for the soft wash treatment, this method will ensure to kill the spores. It will also destroy the root cause of the various unwanted growth that's taking place. This way, you will be left with nothing but an attractive roof that will flatter your home!
Low-Pressure Cleaning
At Just Clean, our professionals use industrial-grade jet wash equipment. This ensures the effective cleaning of your entire roof. Also, this jet washing method will make sure to eliminate all traces of moss, lichen, algae, and grime. And it doesn't end here: We will also treat your roof with an effective fungicidal wash and then seal it. This way, you can be sure that your roof stays protected for a long period of time!
Manual Roof Cleaning
Nothing beats work that involves a personal touch, doesn't it? With Just Clean, you can get manual roof cleaning services, too! When you contact us, we will immediately arrive at your location and inspect the roof while also taking pictures. To clear things up for you, we will also explain the issues that are being faced. Once we get the nod, we will start with the manual cleaning process.
We will carefully remove all the debris, moss, algae, and dirt, as well as other unwanted objects like birds' mess. Once this traditional cleaning method is complete, we will end your roof's treatment with a fungicidal wash. This way, your roof will be as good as new.
Why Choose Just Clean Roof Cleaning Services in Hale
You get to experience clean roofs that are free of unwanted grime, moss, algae, and more
There will be no damage to the cement and tile works and will be left secure
You will notice a great difference before and after the roof cleaning service
Our coating is waterproof and will also protect your roof tiles
An amazing visual difference from before and after
You get great value out of this family-run roof cleaning business 
How to Contact Us
Don't hesitate to request a quote and get treated to some professional roof cleaning service in Hale. All you need to do is call this number 01925 223547 today!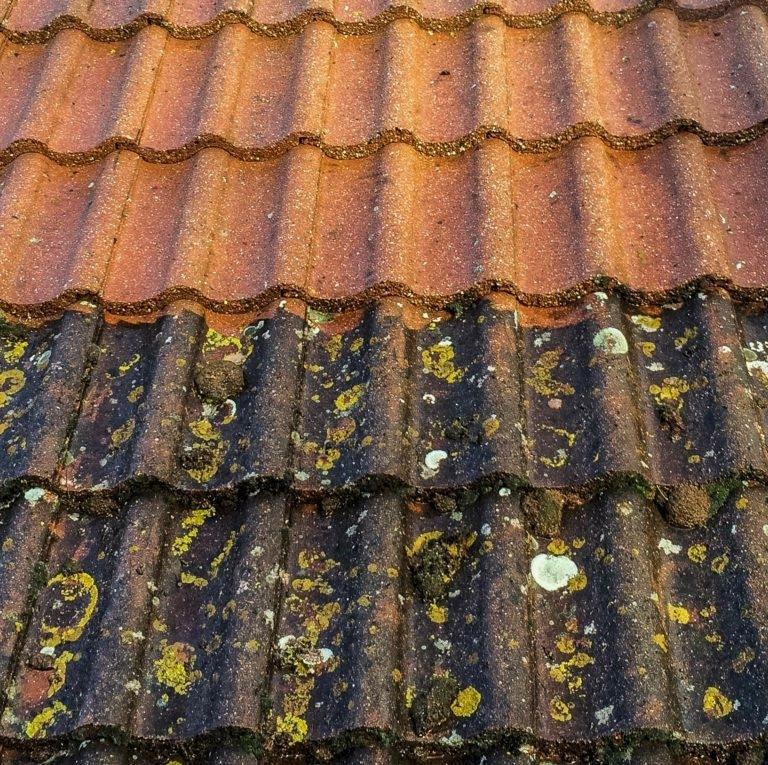 Before and After Roof Cleaning
Before
After