Roof Cleaning Knutsford
Is your roof looking out of shape? Well, maybe it's time you finally give it a much-needed makeover. Moss, algae, dead leaves, and twigs can ruin your roof's appearance and also diminish its physical integrity. Hire our roof cleaning experts in Knutsford today and steer clear of all such problems.
We are a Knutsford based company that offers professional solutions to all your roof cleaning needs. If your roof is in need of a desperate makeover, we will come to your rescue!
Our variety of roof cleaning services ranges from manual to high-pressure washing solutions.
Does your roof appear dull and lifeless? It's about time you get it cleaned. 
Dirty roofs are a daunting issue. In addition to making your house look dull and lifeless, they can also squeeze the life out of your roof shingles/tiles. Dead leaves, when left for long, can cause permanent discoloration. On the other hand, algae and mildews can weaken your tiles and make them prone to untimely cracks. 
The result is that you run the risk of water leakage during heavy rainy seasons. Such small cracks can set off a chain reaction that can ultimately cause bigger issues in the long run. A total roof repairing procedure is also not a smart choice due to its high cost. 
In such a case, seeking help from a professional roof cleaning service should be a no-brainer option! Regular roof cleaning/maintenance is a simple and cost-friendly solution. Hire our premium roof cleaning service in Knutsford and save yourself some extra bucks and a whole lot of inconveniences. Contact us today for a free quote and get our experts at your doorstep.
Our Roof Cleaning Services
Low-Pressure Cleaning
Low-pressure cleaning is a modern tech washing technique best suited to remove persistent moss and algae stains. For such cleaning methods, we make use of industrial-grade jet wash equipment. These are high-end powerful cleaning tools that can remove any traces of debris stains with ease. It is also important to note that low-pressure washing may not be suitable for old homes. The pressured water may damage the loose roof tiles. However, it is highly advisable to change your roof shingles/tiles routinely for a smooth cleaning process.
Low-Pressure Soft Wash
This method uses a combination of low power wash along with a mixture of suitable cleaning detergent. It is a safe and gentle cleaning technique to remove mildew, algae, and other organic stains from the roof. This method is especially ideal for aged roofs that are vulnerable to crack easily. The detergents leave your roof sparkling clean. In addition, the biodegradable disinfectants also add an extra layer of protection to minimize future damages. 
Manual Roof Cleaning
Manual roof cleaning involves removing the roof debris with hands. In this method, there is a minimal requirement for pressure water cleaning. Our experts will examine your roof and remove all foreign objects that may be blocking the gutter. We then disinfect your roof with an extensive fungicidal wash to kill the fungus, mold, and mildews underneath the shingles. 
Why Choose Just Clean Roof Cleaning in Knutsford
Keeps your roof free of unwanted moss and fungi residues 
The waterproof coating reinforces your roof against future threats.
The tiles are left securely in their place.
Incredible value for a premium cleaning service
Request a Quote
Call us on 01625 724292 for professional roof cleaning assistance in Knutsford and get your free quote today!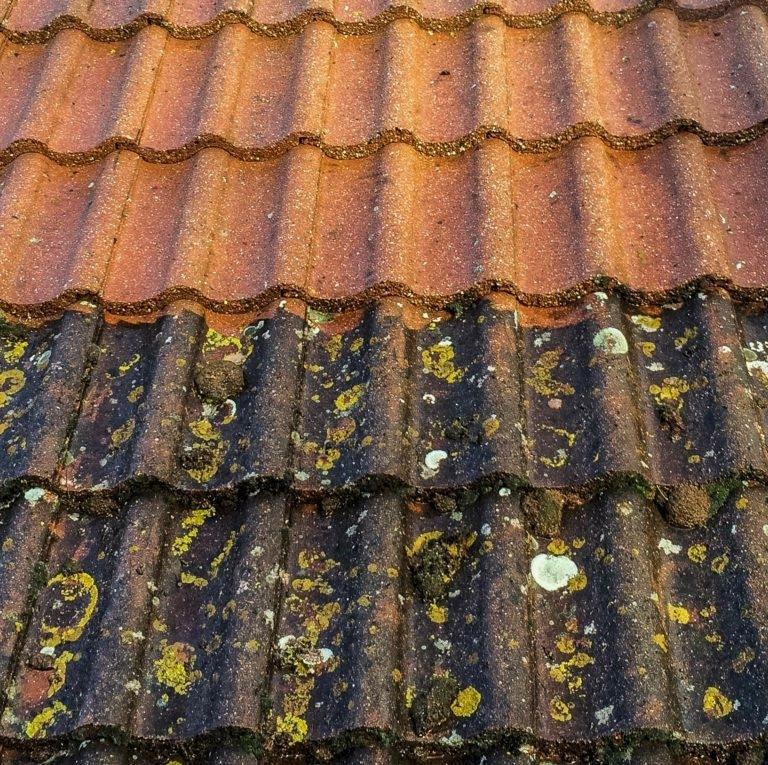 Before and After Roof Cleaning
Before
After