Roof Cleaning Prescot
Did you know the average roof repair cost can run into the hundreds? Yes, you read that, right! If you fancy avoiding shelling out such substantial money on your roof, we are here to help! Hire our professional cleaning service today and fix your roof in a jiffy!
Our top-class service offers a one-stop solution to all your Prescot roof cleaning needs. So, if you are dealing with an unpleasant-looking roof, we are just a call away! We specialize in a broad spectrum of various roof cleaning techniques.
To cut a long story short, there are no roofing issues that we cannot fix.
Is your roof flooded with dirt and grimes? Get it cleaned today!
The roof is unquestionably the most crucial part of your house. It stands tall (literally) and defends you and your family from numerous weather threats throughout the year. Due to such a demanding role, it is bound to show signs of wear and fatigue over time. That (of course) is the natural process.
However, there are certain factors that can speed up your roof's aging process and cause it to compromise your safety. Some of the notable causes include moss and algae formation. These unwanted plant accumulations occur when your roof becomes porous. If they are not removed, they can eat away the outer layer of your roof and cause it to crack quickly. Besides, they can also clog the rain gutter system.
Save yourself from all the plethora of associated problems that come with such inefficient roof management. How do you do that? Well, by hiring our market-leading roof cleaning service in Prescot. We also offer our professional service to all the connecting areas of Prescot. So, if you need to give your roof a makeover, give us a call and get your free quote today!
Our Roof Cleaning Services
Our roof maintenance service comes packed with a generous list of unique cleaning features that you may not find elsewhere.
Here are some of our key roof cleaning service features at a glance:
Low-Pressure Cleaning
This is one of the most common roof cleaning techniques. It offers an effective solution against some familiar roofing issues like discoloration and fungi. The low-pressure jet stream powers through these commonly occurring debris and remove them instantly. Our top of the line pressure washing equipment also does not cause any physical damage to your roof. The fungicidal wash then adds a layer of sealing for additional durability.
Soft Wash Cleaning
As the name suggests, soft wash cleaning offers a thorough yet safe roof cleaning solution. This method of cleaning is ideal for removing persistent moss and algae stains. The difference is that you run the risk of damaging your roof tiles in the case of high-pressure washing. On the contrary, the soft cleaning technique only removes what is necessary. Thus, soft wash cleaning is most suitable for old or damaged roofs.
Manual Roof Cleaning
Manual roof cleaning involves inspecting the roof by our experts. Unlike other pressure washing techniques, manual roof cleaning involves low water treatment. Our experts will first inspect your roof to understand its true condition. We will then remove large debris and foreign objects manually by hands. Lastly, we treat the roof with proper chemicals (fungicidal wash), and voila! Your roof is ready to rock and roll!
Why Choose Us For Roof Cleaning in Prescot
Best-in-class clean roof solution
Modest pricing from a family run business
A broad spectrum of roof cleaning options at your disposal
Noticeable visual difference before and after our roof cleaning service
Waterproof coatings for extra-long tile lifespan
Request a Quote
Get your free price quote by contacting Just Clean in Prescot. Call us today on 01925 223547.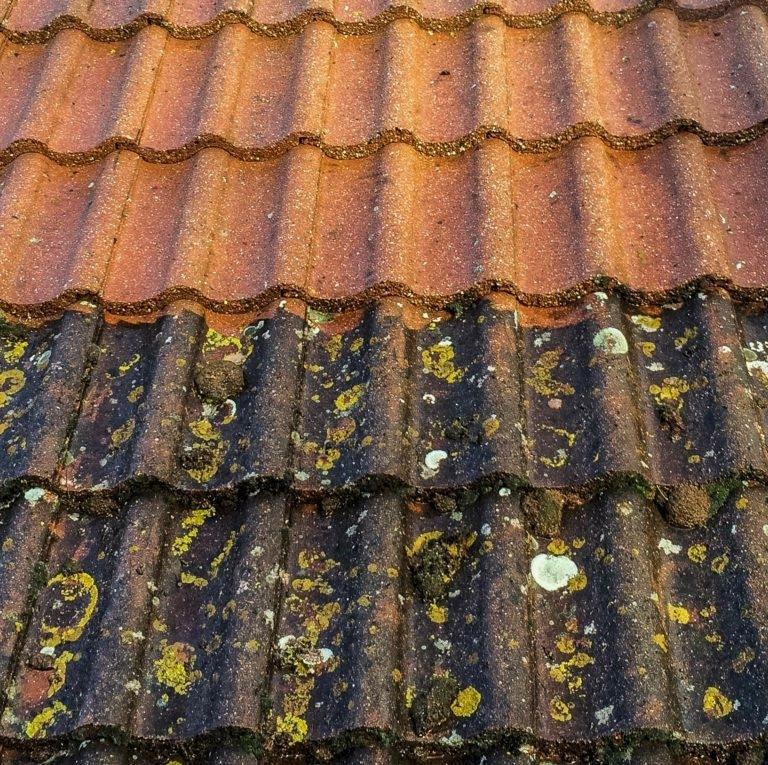 Before and After Roof Cleaning
Before
After