Roof Cleaning Chester
Our roof-cleaning services in Chester can cater to all sorts of problems. Whether you're dealing with moss, algae, grimes, surface growth, or even a large collection of debris, we can easily clean and clear them for you! 
All you need to do is give us a call and contact us. Everyone needs their roof cleaned at least once or twice a year. With the help of our roof cleaning services, your roof will be looking brand new!
Is Your Dirty Roof Spoiling Your House Appearance? Have It Cleaned Today! 
Let's cut right to the chase. A dirty roof can cause a lot of problems to your house. One of the first things people will notice about your home is your roof. If it's dirty, your house will not look nice. But this does not even begin to cover it.
Perhaps, one of the biggest reasons why cleaning your roof annually is very important is because a roof has practical reasons. If your roof is dirty and covered with dust, dirt, and debris, it becomes ineffective in maintaining and regulating the internal temperature, and you're exposed to harsh weather conditions.
Furthermore, you would not want to pay extra for roof repairs, right? Well, if you want to avoid sky-high prices for getting your roof repaired, then get your roof cleaned as soon as possible. A dirty roof can easily break or crack, and these damages are costly to fix. 
So, if your roof is dirty, we are always ready to come and take a look. We will make sure to survey every nook and corner and provide you with an accurate quote before you agree to anything.
Our roof cleaning services
It is no secret that there are plenty of roof cleaners in Chester. But what makes us better? Why should you consider taking our roof-cleaning services? Well, it's simple. We do not slack or cut any corners. It is our responsibility to provide exceptional service.
If you employ our services and get your roof cleaned, be ready to see a roof you won't be able to recognise. Moreover, we offer three types of cleaning services that can handle any type of problem.
Low-Pressure Cleaning
One of the most common sights on roofs is grimes. This includes lichen and algae growth. When your roof is full of these common grimes, it can spoil the appearance and pose a danger. Fortunately, we have the best cleaners and washers to eliminate this problem. Our low-pressure wash can easily remove such problems. 
Low-Pressure Soft Wash
It is not uncommon to see a roof covered with moss, algae, dirt, dust, and all kinds of surface growth. But don't worry. Our professional cleaning service provides low-pressure soft wash, which is ideal for removing such dirt. We even sanitize your roof to give it extra protection. 
Manual Roof Cleaning
Is your roof is Chester in bad need of cleaning? Are there all sorts of debris and animal waste? Fear not. If you opt for our manual cleaning, we'll come and do a proper inspection. Once we get your approval to proceed, we will begin by handpicking all the larger debris. After this, we also provide a fungicidal wash to prevent future threats. 
Why Choose Just Clean For Roof Cleaning In Chester
Attractive and reasonable prices.
Family-operated business.
Skilled cleaners.
Capable of handling dirt, algae, moss, and even animal waste.
Happy customers. 
We even make sure to provide a water-proof coating.
Results are clearly evident. 
Request A Quote
Contact us at Just Clean Property Care for a free quote on our roof cleaning services in Chester. You can contact us on this number 0800 7720 440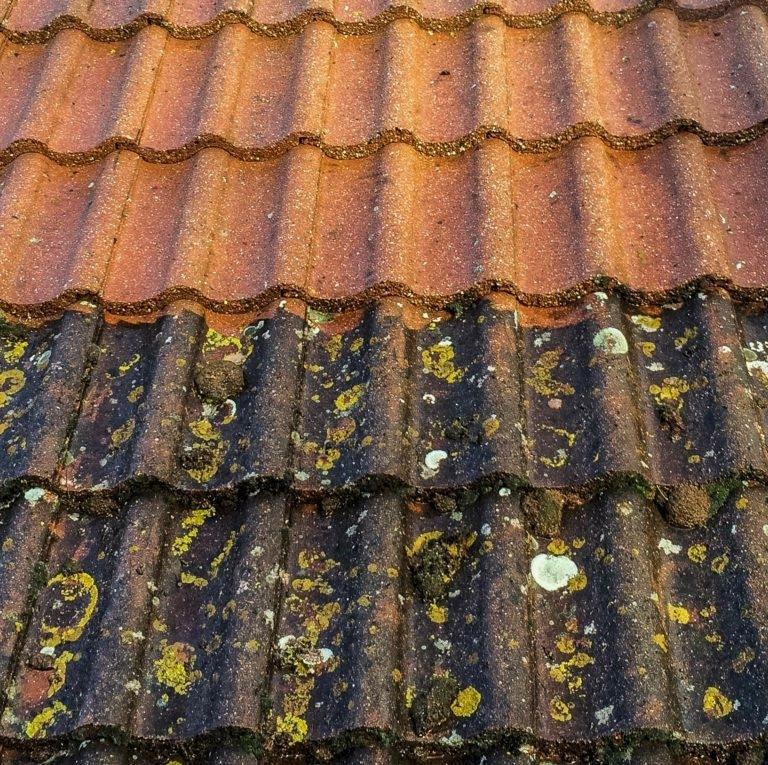 Before and After Roof Cleaning
Before
After