Roof Cleaning Crewe
Cleaning your roof every once a year is absolutely important. Let's be honest. No one wants to have a house with a dirty roof. It spoils the appearance. So, if you are from Crewe and you think that your roof is in need of thorough and detailed cleaning, it's time you seek professional help from us. 
It's not surprising to see homeowners try and clean their own roofs. But the fact of the matter is that self-cleaning does not do the job quite right. This is because when professionals clean your roof, they make sure to do a proper job using the best types and kinds of equipment.
So, whether you're dealing with moss, dirt, algae, or any kind of surface growth, you can pick up your phone and call us at Just Clean. We offer different kinds of roof-cleaning services.
Is Your Dirty Roof Spoiling Your House Appearance? Have It Cleaned Today! 
If you consult any professional, they will tell you that cleaning your roof once a year is a requirement. For people that tend to stay in highly polluted areas, once is not enough sometimes. A dirty roof can cause several problems which you might not want to deal with. 
Having a clean roof has several benefits. One of the first things people tend to notice about your house is the roof. So, having a dirty roof can easily bring down and degrade the looks of your house. But wait. That is not all. Having a dirty roof does not only spoil the aesthetics but the functionality of roofs as well. 
Every house has a roof for a reason, and that is to protect the interior from harsh weather conditions. When your roof starts to accumulate dirt and surface growth, it no longer works effectively to maintain the internal temperature. 
Another major issue that will arise out of a dirty roof is that your roof can easily crack or break. Yes, that is right. A dirty roof is more prone to damages. Once moss, algae, dirt, and debris collect on your roof, it is not difficult for your roof to get spoiled. 
And guess what? Roof repair costs more than roof cleaning. So, don't delay and call us or professional roof cleaning. We will come and inspect and give you a quotation.
Our roof cleaning services
If you're paying for roof cleaning services, you would want the best service possible. So, why choose us? What makes our roof-cleaning services a good option? It's simple. We consider ourselves to be one of the best and our previous customers think so too! 
If you're from Crewe, you should not delay in contacting us because we not only offer an immaculate service but also because we offer services like: 
Low-Pressure Cleaning
One of the quickest and simplest ways to remove grimes such as algae and lichen is by making use of low-pressure cleaning. We at Just Clean make use of industrial-grade machinery to remove all these from your roof. The end result is a clean roof. 
Low-Pressure Soft Wash
Rain, wind, sunlight, and moisture can cause moss, algae, and surface growth to appear on your roof. These, along with dirt, can easily spoil your roof. To clean such debris, we make use of low-pressure soft wash. As an additional preventative measure, we also sanitize your roof.
Manual Roof Cleaning
Manual cleaning is relatively simple and efficient. First, we will come and inspect your roof and make a detailed plan. Once we have your approval, we will start hand-picking all the debris and then do a fungicidal wash. 
Why Choose Just Clean For Roof Cleaning In Crewe
Our services are affordable.
We can clean all types of dirt, including moss and algae.
Maximum customer satisfaction.
We make sure to do a thorough job.
Your roof will also get a water-proof coating from us.
Before and after results are very clear.
Request A Quote
Contact us at Just Clean if you think that your roof in Crewe is dirty and needs professional cleaning. You can contact us at 0800 7720 440.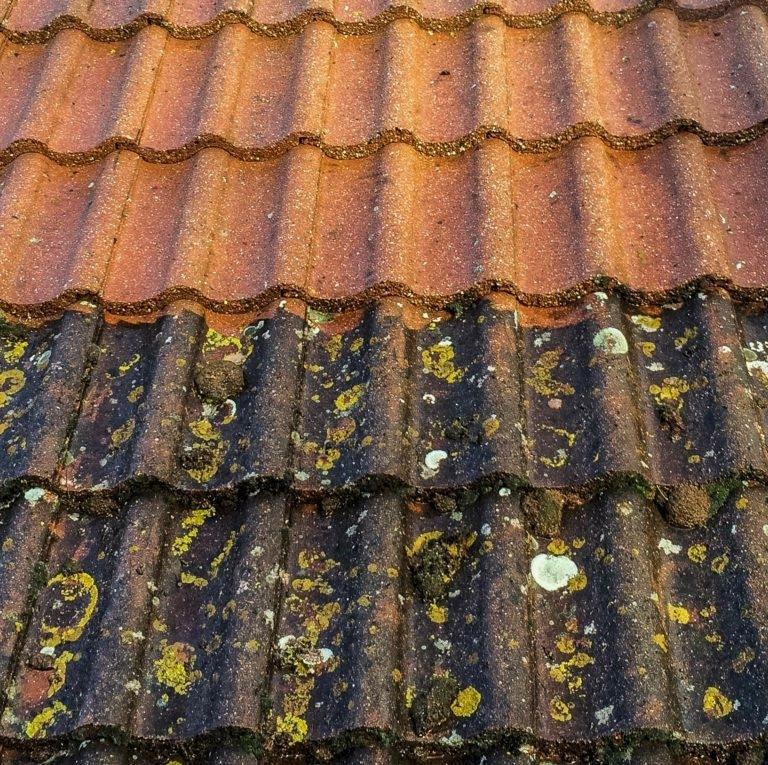 Before and After Roof Cleaning
Before
After