Roof Cleaning Formby
Roofs are an integral part of any home. They not only provide shelter from outside elements but also maintain the ideal temperature level and insulate our house. Moreover, the looks and quality of your roof play a large role in the overall appearance of your house. And you sure don't want your house to look old and dirty by having an untidy roof!
The solution? Choose our Formby Roof Cleaning Service!
Is Your Dirty Roof Spoiling Your House Appearance? Have It Cleaned Today!
The roof of your home is often overlooked for several reasons. Hence, we fail to take proper care of our roofs, which may further lead to serious problems in the future. To avoid this, routine roof maintenance is key!
Without proper maintenance, your roof becomes susceptible to harsh weather conditions, which can further cause curlings and cracks. Once this happens, repairing and restoring your roof can break the bank! As an estimate, repairing a roof can cost around £350 to £1000.
If you want to save yourself from such an expenditure, we suggest you opt for our Formby roof cleaning service. Call us today and get a free quote!  
Our roof cleaning services
At Just Clean, our professionals will provide you with the following services for roof cleaning in Formby:
Low-Pressure Cleaning
As the name indicates, low-pressure cleaning is a method wherein we clean and scrub your rooftops with a moderate PSI pressure washer. This type of cleaning is considered safe, efficient, and effective while extending the lifespan of roofing shingles. Low-pressure cleaning is the go-to for removing common grimes.
If you pick our service, we'll clean your roofs without any hassle with industry-leading cleaning equipment and cutting-edge solutions. With us, you can set your mind at ease and be rest assured that your roof is in good hands!
Low-Pressure Soft Wash
This is another one of our popular roof cleaning services in Formby. If you've ever opted for traditional low-pressure wash, the low-pressure soft wash is pretty much the same. But we go above and beyond by sanitizing your roof for the much-needed extra protection.
Our first step is to remove all kinds of algae, grimes and moss from every nook and corner of your roof. Then, we'll finish off by spraying and sanitizing your entire roof. The result is a sparkling roof, free from all fungi growths!
Manual Roof Cleaning
We take pride in our extensive manual roof cleaning service. If you feel like your roof is in need of routine maintenance, you can opt for our manual roof cleaning. Through this service, we'll first manually check the condition of your roof. We will look through all nooks and corners of your roof and note down the cleaning method it requires.
Don't worry if you're not familiar with roof cleaning services and costs. We can discuss them during our manual roof cleaning process. We also make sure not to start our work without your consent. Once we explain all the roof problems and necessary actions required, you can take the call of whether to proceed with the roof cleaning procedure or not!
On approval, we'll begin by manually picking up any large wastes and litter. Then, we go the extra mile by giving your roof a complete fungicidal wash. The result? A mint roof that is free from all dirt and grimes!
Why Choose Just Clean For Roof Cleaning In Formby
You'll be amazed by the before-and-after roof pictures
Brand-new-looking roof that is free from all kinds of grime, algae, dirt, etc.
Unbeatable pricing
Additional waterproofing the roof for protection from future threats
Extend the lifespan of your roof
Prompt Customer Service
Request a Quote
For an unmatched roof cleaning service, you can count on Just Clean! Call us today on 0800 7720 440 for a free, no-obligation quote on your roof cleaning job.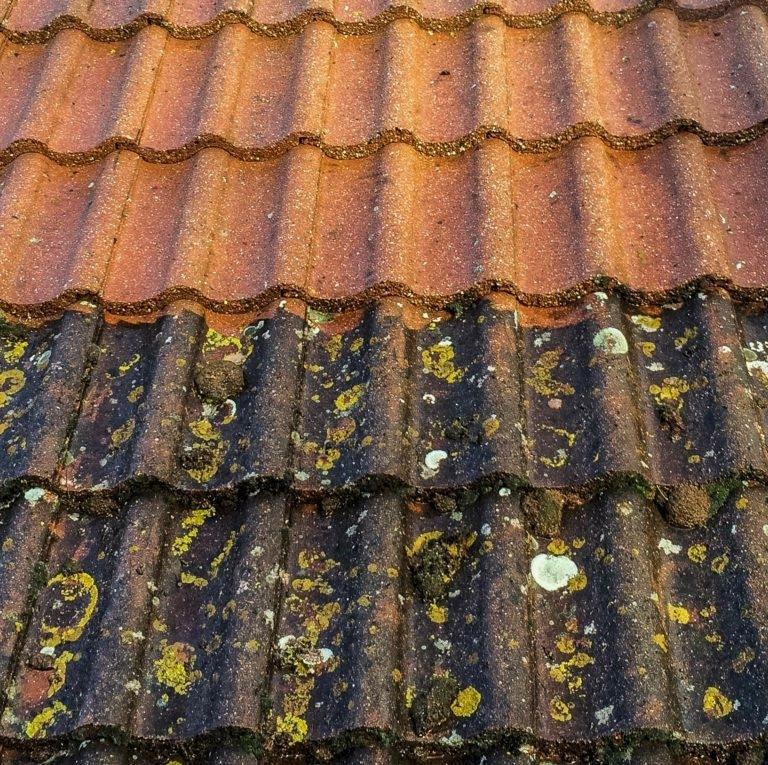 Before and After Roof Cleaning
Before
After