Roof Cleaning Frodsham
Nobody wants to have a roof that's dirty. This is because a clean roof adds to the beauty of your house. If you notice that your roof is starting to accumulate all sorts of dirt and debris, it's about time you call for professional help.
One of the basic mistakes that many homeowners make is that they think they can clean their roofs alone. While you can easily remove the larger debris and clean the surface, it still won't be enough. Want to know why? Because professional equipment and washing do a better job at removing unseen grimes and dirt. 
So, if you think that your roof needs a proper and thorough cleaning, you can contact us. We offer professional roof cleaning services in and around Frodsham. Our services are immaculate, and you won't have any complaints or problems. Whether it's manual cleaning or jet cleaning, we can extend our services to both domestic and commercial buildings. 
Is Your Dirty Roof Spoiling Your House Appearance? Have It Cleaned Today! 
For the best results, you should have your roof cleaned at least once a year. In case you stay in a polluted area, twice a year is also an ideal situation. However, the fact of the matter is that cleaning your roof and keeping it clean is extremely important. 
Let us tell you why maintaining a clean roof is crucial. For starters, having a clean roof will always elevate the beauty and charm of your house. But this is not all. When dust, dirt, and moss start to accumulate, the practicality of your roof is reduced. A roof helps protect your house from harsh weather and maintains the temperature. If it's dirty, it reduces the effectiveness. 
Can you imagine paying extra for roof repair? Well, if you clean your roof, there's no need to worry about roof damages. However, if you let dust, moss, algae, and debris accumulate on your roof, it will be prone to damages. This will end up costing you more. 
So, stop delaying the cleaning process. The longer you wait, the more you'll have to pay. Contact us for the best roof cleaning service in Frodsham. We'll take a look at the condition of your roof and give you a free quote.
Our roof cleaning services
If you want a roof that is clean, protected, and safe, you should take the aid of our services. We take pride in the fact that we offer an immaculate roof cleaning service for customers in Frodsham.
We do not limit our cleaning services to just one type. On the contrary, we offer three types of cleaning services that are ideal for tackling all kinds of roof-related problems.
Here are some of the services we offer:
Low-Pressure Cleaning
One of the common roof-related problems is the accumulation of common grimes like lichen and algae. This is due to natural forces like rain, wind, sunlight, and moisture. But don't worry. Our industrial-grade washers and cleaning equipment can easily remove them, leaving your roof spick and span.
Low-Pressure Soft Wash
Are you noticing the growth of moss on your roof? This is a problem that is quite common. And the solution to this problem is our services. If you want to remove the moss, we suggest opting for our low-pressure soft wash. 
Other than moss, if your roof has algae, dirt, and natural growth, our low-pressure soft wash is the ideal solution. We also make sure to check and clean all the corners of your roof. To protect it from future problems, we make sure to sanitize your roof as well. 
Manual Roof Cleaning
Manual cleaning is one of the simplest methods to clean your roof. First, we start by hand-picking all the large debris and dirt. After this, we do a fungicidal wash in an effort to eliminate and remove any unseen dirt and grimes that may linger. We make sure to get your approval first before proceeding.
Why Choose Just Clean For Roof Cleaning In Frodsham
We are a family-run business.
Our rates are quite affordable.
We are capable of cleaning dirt, dust, algae, moss, or grimes. 
You will not have any complaints with our services.
We even apply water-proof coating on your roof for added protection. 
The before and after results are clearly evident.
Request A Quote
Contact Just Clean today for a no-obligation quote. We believe in providing our customers with a transparent and ethical estimate with no hidden charges. Call us right now on 0800 7720 440 to book your roof cleaning service!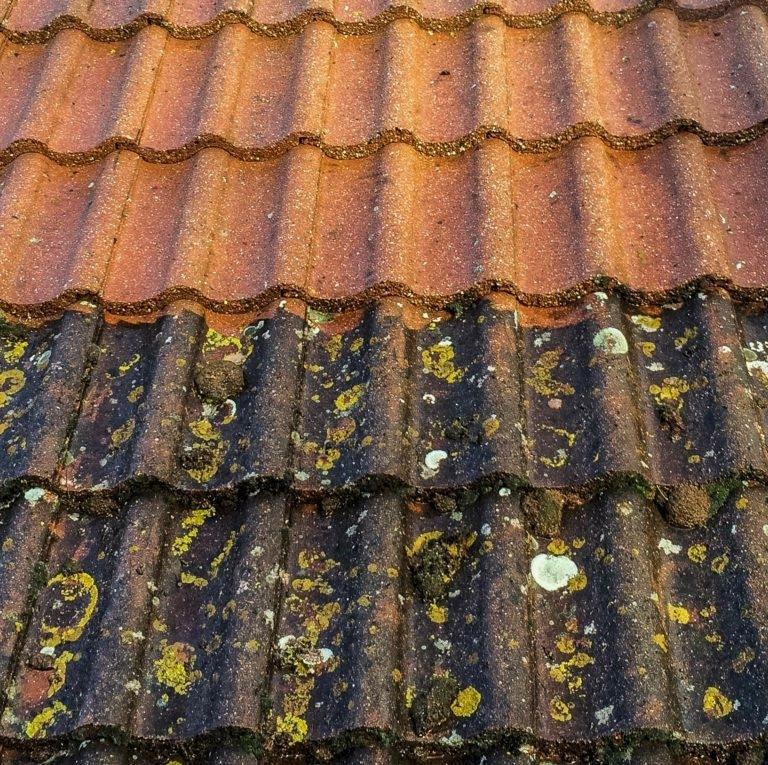 Before and After Roof Cleaning
Before
After