Roof Cleaning Lancashire
Cleaning your roof alone in Lancashire can prove to be challenging. Most homeowners in Lancashire think that it's better to clean their roofs themselves. But this is simply not true. Not only is roof cleaning hard, but self-cleaning only cleans the surface at best.
So, are you noticing a build-up of dirt, dust, debris, and all kinds of surface growth on your roof in Lancashire? If that is the case, you should not delay in calling and asking for professional help. And guess what? You can hire us, and we'll come to clean your roof for you. 
You can count on our roof cleaning services to handle any kind of problem. Whether it is surface growth, large debris, animal litter, dust, or dirt, we can easily handle them with our top-notch equipment. Just contact us at Just Clean, and we'll be there. 
Is Your Dirty Roof Spoiling Your House Appearance? Have It Cleaned Today! 
Most professionals will give you the advice to get your roofs cleaned at least once a year or even twice if you stay in a very polluted area. But, most homeowners in Lancashire do not prioritize getting their roofs cleaned. However, it is crucial to have clean roofs for several reasons.
A clean roof can easily add to the charm and beauty of your house. But that's not all. A roof has practical functions. Aside from keeping you protected from harsh weather conditions, a roof helps maintain internal temperature. But if your roof is dirty, it becomes less effective in doing its job. 
Did you know that a dirty roof can easily break, curl, or crack? Whatever material your roof is made of, if it is left uncleaned and ignored for a long time, damages are inevitable. And guess what? It costs more to get it repaired than cleaned. 
So, what are you waiting for? If you feel that your roof in Lancashire needs a thorough and proper cleaning, just contact us at Just Clean. We'd be happy to come and clean your roof for a great deal!
Our roof cleaning services
There is no hiding the fact that there are a good number of professional roof cleaners in Lancashire. But we take pride in our professionalism and make sure to provide a thorough cleaning job. Most of our customers have loved our work.
Moreover, we provide three essential cleaning methods for homeowners in Lancashire. These methods are ideal for tackling any kind of problem. Take a look at the services we offer:
Low-Pressure Cleaning
Nobody wants their roofs littered with grimes like algae and lichen. It can easily degrade the looks and quality of the house. To deal with this problem, we offer low-pressure cleaning. We make use of the best washers and cleaners to do this. 
Low-Pressure Soft Wash
If you're facing surface growth issues such as moss and algae on your roof, don't worry. We have the solution for you. Our low-pressure soft wash can easily take care of this problem. It is similar to our low-pressure cleaning. But, we take an extra step in this method and make sure to sanitize your roof to prevent future threats. 
Manual Roof Cleaning
Just like the name suggests, manual cleaning involves handpicking dirt and debris. We do this only after we inspect your roof, draft a plan, and get your approval. At the very end, we also provide a fungicidal wash to eliminate unseen grimes and pathogens. 
Why Choose Just Clean For Roof Cleaning In Lancashire
Our prices are not expensive at all. 
We do a thorough and immaculate job.
Positive reviews from past clients.
We also make sure to provide a water-proof coating.
Our cleaners are skilled and highly professional.
We can handle dirt, grimes, moss, or even animal waste.
Before and after results are very evident.
Request A Quote
Contact us at Just Clean if you think that your roof in Lancashire is in need of professional cleaning. You can reach us at 0800 7720 440.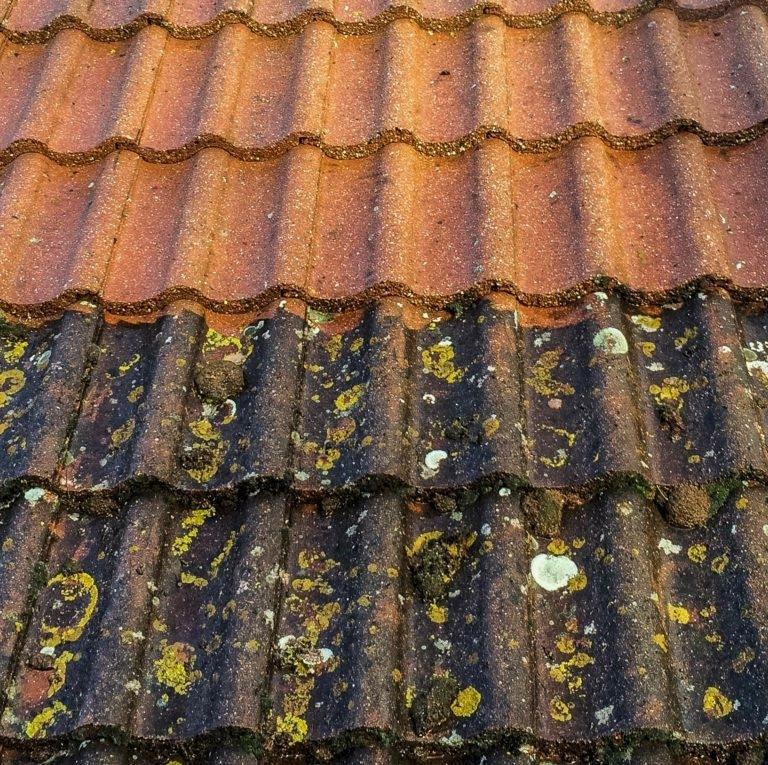 Before and After Roof Cleaning
Before
After