Roof Cleaning Rochdale
Are you having trouble with algae and moss on your roof at Rochdale? Do you want professional cleaners to clean them for you? If you do, you've come to the right place. At Just Clean property care services, you can hire some of the best roof cleaners to make your roof look brand new. 
Our excellent roof cleaning service will be perfect for helping every homeowner in Rochdale. We specialize in just about every type of roof cleaning, including jet cleaning and manual cleaning, so you can give your roof just what it needs. Simply give us a call at our number to have your Rochdale roof new and shiny.
Is Your Dirty Roof Spoiling Your House Appearance? Have It Cleaned Today!
Besides providing shelter for you and your family, the roof of your house also plays a bunch of other crucial roles. First, it also acts as insulation and helps maintain the overall temperature inside your house. Besides that, the roof also plays an important factor in the design and appearance of your house. These are just a few reasons why you should always clean your roof and keep it spotless. 
However, with the lack of maintenance, dust and dirt will accumulate along with the growth of fungi. All these can affect your roof in all spheres. It will also lead to bigger problems like cracks and water leaks. If that happens, you will have to spend a ton of money on repairs. 
Lucky for you, our roof cleaning service can save you all of that time and money. All you have to do is contact us, and we will give you your deep roof cleaning at an amazing price. Give us a call, and we'll be happy to provide a quote free of cost. 
Our roof cleaning services
To give you a better idea of what type of services you'll get from us, here are some key features of our roof cleaning company:
Low-Pressure Cleaning
Low-pressure cleaning is one of the most popular services that homeowners ask for. This type of cleaning is perfect for removing algae and moss on the roof without damaging the integrity of the roof. If you are also dealing with algae on your Rochdale roof, you will love our low-pressure cleaning. What makes our low-pressure cleaning so popular is that we use cutting-edge equipment for the whole cleaning process. 
Low-Pressure Soft Wash
Similar to low-pressure cleaning, the low-pressure soft wash comes with the additional benefit of your roof's sanitization. After removing all the traces of fungi and algae on your roof, the sanitization process will also prevent their growth in the future. This gives a long-lasting cleaning solution for your roof. After the cleaning process is complete, you can enjoy your beautiful and spotless roof again, and for a very tie as well. 
Manual Roof Cleaning
Manual roof cleaning involves the manual inspection of the roof before the cleaning begins. After careful examination of your roof's condition, we will provide you with a report and how we will go about with the cleaning. Once you give your consent, we will begin cleaning by first removing all kinds of solid debris from the roof. 
Once the roof is clear from debris, we will give it a thorough wash to remove fungi, algae and unseen dirt. After the completion of the process, you will get a roof that will look good as new. 
Why Choose Just Clean For Roof Cleaning in Rochdale
We'll make your old roof clean as new
Astonishing difference after cleaning
Removes all kinds of dirt, including grime, moss, and dirt
High-quality workmanship
Affordable pricing
Family-owned business looking to make a difference
Provides extra waterproof coating to ensure that your roofs last longer
Request a Quote
If you're searching for a roof cleaning service in Rochdale, you can contact Just Clean today. Just reach us at our number 0800 7720 440.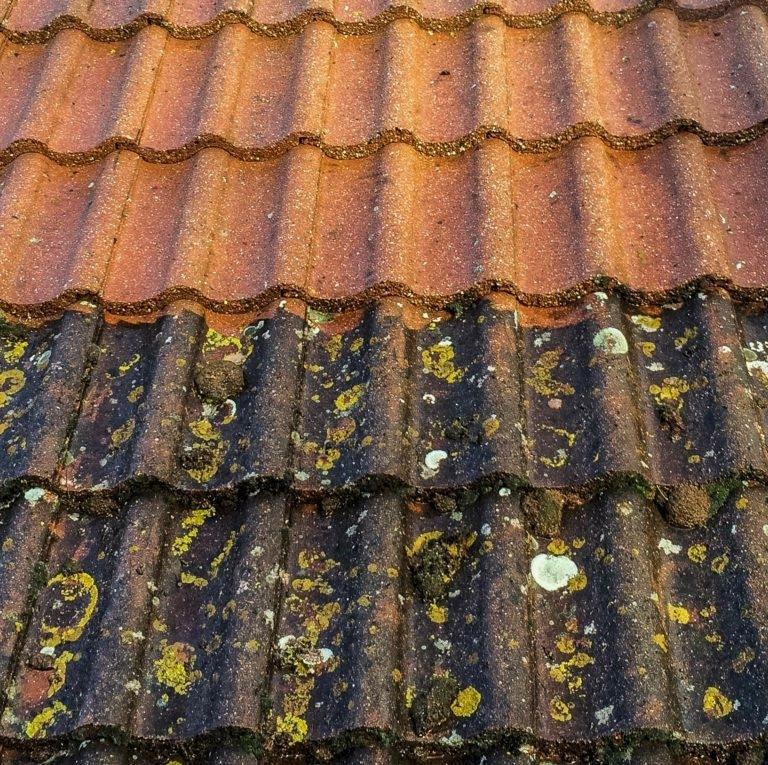 Before and After Roof Cleaning
Before
After