Roof Cleaning Stoke on Trent
Roof cleaning is one task we cannot afford to do every day. Let's be honest here. We all feel lazy sometimes when it comes to chores like this.
That is why we have professional cleaners to aid us in these problems. Our roofs are constantly bombarded with dirt, debris, algae, etc. But you can have your roof spotlessly clean in no time with our roof cleaning service.
And there is good news for all you Stoke on Trent residents. Our cleaning service will reach you in no time. We provide premium assistance with professionals handling all the work. Whether you want jet cleaning or just a manual wash, we are at your service.
Stoke on Trent homeowners can call us right away. We'll be there in no time and have your roof cleaned like new.
Is Your Dirty Roof Spoiling Your House Appearance? Have It Cleaned Today!
If you think the role of a roof is just to provide shelter, think again. Thanks to roofs, you feel comfortable when the temperature and humidity levels are spot-on. Plus, roofs also provide insulation and shield us from debris and harsh sunlight. These are just a few reasons why maintaining our roofs should become a priority.
Our roofs are continually exposed to wind, dirt, rain, etc. Over time, these environmental effects will show their impact by deteriorating our roofs. They are easily prone to cracks and holes and get "rusty" or "mossy" with time. And without maintenance, these will cause you more significant problems in the long run.
And you also want to think twice before you hire roof repairing services. These services are expensive and can cost you hundreds and thousands for a brand new roof. We believe this is not the optimal solution.
So what is the best solution in this situation? Have your roof cleaned, of course. It is much cheaper and will increase the longevity of your roof. 
If you call us today, you will get your quote absolutely free. And there's more good news. If you live anywhere near Stoke on Trent, we will reach you in no time.
Our roof cleaning services
As you already know by now, we are professional cleaners offering the best service you can find. And if you want to know what services we offer, the following are a few essential ones.
Low-Pressure Cleaning
You already know what it means from the name. Low-pressure cleaning is ideal if you want to remove regular grimes. Algae, moss, lichen, etc., will be gone in a snap with low-pressure cleaning. 
With our state-of-the-art equipment and efficient methods, your roof will be as good as new. Stay tension free and watch us transform the look of your roof.
Low-Pressure Soft Wash
With this option, you will get more than your regular low-pressure washing. We will scan the whole area and have a germ-free roof instantly. There will be no traces of grime or slippery spots.
This method is essential as it can prevent the further growth of fungi. Plus, it provides a long-term solution, and in the end, you have a roof as good as new.
Manual Roof Cleaning
With our manual cleaning feature, you will get a wide array of benefits. Firstly, we will study your roof's condition, click photos, and fix a plan. Secondly, with your approval, we will remove debris and waste by hand. Doing this beforehand prevents clogging and further problems.
Finally, we begin the washing and cleaning process to remove leftover dirt. Now your roof is clean as new and ready to take on what nature throws at it.
Why Choose Just Clean For Roof Cleaning In Stoke on Trent
Top-notch professional service
We understand your problem better because we are a family run business
Affordable service fees
Additional waterproof layering for a longer-lasting roof
Dirt free roof as good as new
A striking difference in the before and after look after we clean your roof
Request A Quote
If you want Just Clean services in Stoke on Trent, give us a call. Reach us at our contact number 0800 7720 440.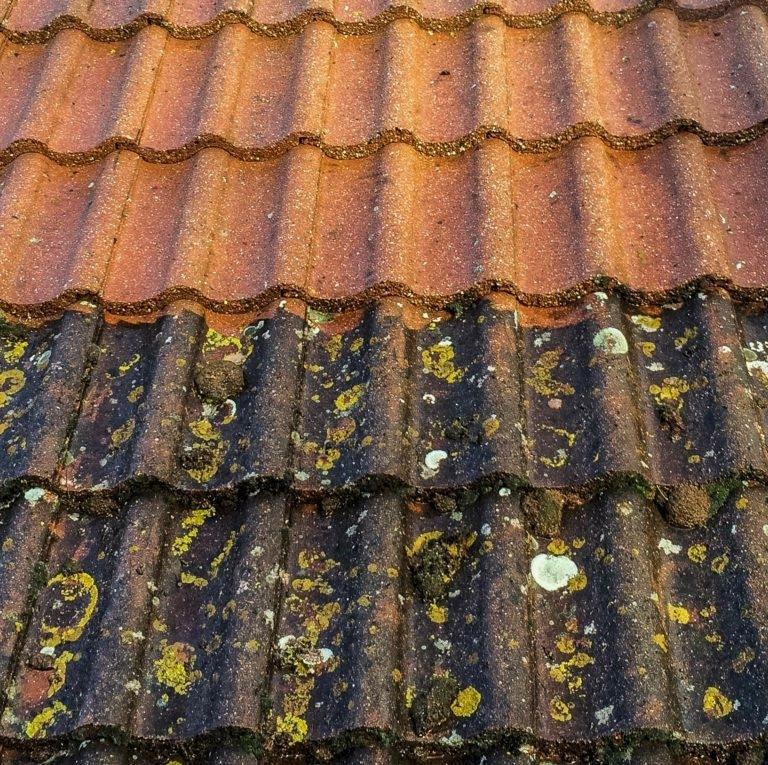 Before and After Roof Cleaning
Before
After