Roof Cleaning Worsley
Having a clean roof is fundamental if you want your house to look clean and presentable. Sadly, this is not possible. The sun, wind, rain, and moisture can easily dirty up your roof in Worsley. But don't worry! There are professionals like us who can come and clean it for you.
We understand that everyone in Worsley needs to have a clean roof. Our top-of-the-line pieces of equipment and skilled cleaners are able to provide the best roof cleaning services in Worsley. There's no need to break your back cleaning it alone. Just contact us! 
When it comes to roofs, cleaning them early on is always a good idea. The more dirt that accumulates, the harder it is to clean and sometimes, it may even be costlier. Contact us at Just Clean if you think that your roof in Worsley needs professional cleaning.
Is Your Dirty Roof Spoiling Your House Appearance? Have It Cleaned Today! 
There is no denying the fact that a dirty roof can easily spoil the beauty of your entire house. Some people even take it very lightly and never get their roofs cleaned. But, every homeowner in Worsley needs to know that a clean roof is of utmost importance.
One of the first things everyone needs to know is that when your roof is dirty, it loses its effectiveness. A roof plays an important function. It protects the house from harsh weather and helps maintain internal temperature. When your roof is dirty, this effectiveness and functionality get reduced. 
Furthermore, if your roof is ignored and is dirty for a long period of time, you will start to see cracks, curls, and even breaks. Are you wondering why? It's simple. A dirty roof can easily get damaged. And you would not want to pay the extra money for roof repair.
So, seek professional roof cleaners like us in Worsley today. We at Just Clean are always ready to come and clean your roof for a handsome price.
Our roof cleaning services
There are a few roof cleaners located in Worsley. So, what makes our services stand out? Well, for starters, we always make sure to do a thorough job, one which will not disappoint you. 
Also, our roof cleaning services are elaborate and extensive. We can handle almost all kinds of dirt and growth. There are essentially three types of services we provide:
Low-Pressure Cleaning
Common grimes can be painful and annoying. A lot of homeowners in Worsley deal with the growth of algae and lichen on their roofs. But no need to worry. We provide low-pressure cleaning using top-notch washers and cleaners that can eliminate this problem.
Low-Pressure Soft Wash
Our low-pressure soft wash is ideal for dealing with moss-related issues. We make sure to do this in every nook and corner of your roof. If you're facing issues of surface growth, this method is the best way to deal with it. Moreover, we even sanitize your roof to protect it from future problems. 
Manual Roof Cleaning
For this method, we always make sure to come and do an inspection of your roof. Based on our findings, we make a detailed plan and only after your approval, we start manually cleaning it by handpicking dirt and debris. After this, we make sure to do a fungicidal wash as well. 
Why Choose Just Clean For Roof Cleaning In Worsley
Our prices are not expensive at all.
We are a family-based business.
Our cleaners can handle dirt, grimes, moss, algae, and even animal litter.
Professional through and through.
Best cleaning and washing equipment.
Detailed and thorough job.
We even provide a water-proof coating. 
Request A Quote
If you want our professional roof cleaning services in Worsley, you can always contact us at 0800 7720 440.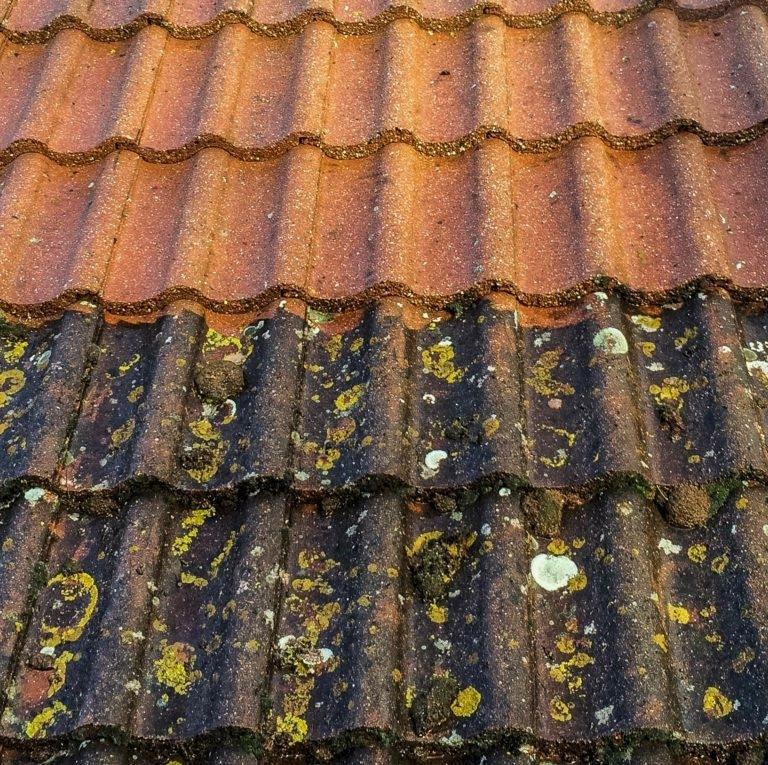 Before and After Roof Cleaning
Before
After