Roof Cleaning Speke
There are certain problems that you just can't put off indefinitely. Roof cleaning tops that chart. The accumulation of algae, moss, and lichens can damage your roof shingles in no time. Luckily, by hiring our professional roof cleaning service in Speke, you can steer clear of all such troubles.
Keep your roof in its pristine condition with the help of our roof cleaning solution in Speke. We provide services like a jet wash, soft wash, and manual roof cleaning. Our team of professional cleaners takes great care to ensure your roof receives the best cleaning experience.
Is your roof attracting moss and algae? Have it cleaned before it's too late
Clay and concrete roofs deal with pest infestations that can eventually reduce their normal life cycle. Algae, moss, mildew, and mold have all one thing in common – moisture. All these fungi growths originate out of little pores in the tiles that make them vulnerable to moisture.
They are also a hotspot for various debris accumulation like dead leaves, twigs, and birds' waste. The collection of all such unwanted residues on your roof can cause it to lose its structural strength. As a result, it becomes prone to cracks and other physical damages, especially during harsh weather conditions.
Luckily, this is where our professional roofing solution in Speke comes to your aid! Contact us today and free your roof from all such external fungal threats. Get a free quote on your first call today! We also cover most neighboring areas around Speke.
Our Roof Cleaning Services
Low-Pressure Cleaning
If you want to remove all traces of grime, moss, and algae from your roof, low-pressure cleaning is the best option. We use high-end jet wash equipment that removes stains with great efficiency. It offers just the right amount of water pressure to flush out the fungal residues without causing damage to your roof tiles. This type of cleaning technique is effective for cleaning both old and new roofs.
With a low-pressure wash, you can achieve a sparkling roof with minimum effort. We also give your roof a rigorous fungicidal treatment as per our standard procedure. Lastly, we seal your roof with a protective coating to prevent potential pest threats.
Manual Roof Cleaning
This type of cleaning technique involves removing the roof's dirt and debris by hand. It is best suited for situations where you require personal supervision. First, our team of roof cleaning experts will inspect your roof. They take pictures of fungal growths and other similar debris and walk you through the necessary steps required. Only after your nod of approval do our cleaning professionals start their cleaning chores.
One great thing about manual cleaning is that our experts remove dirt from every tricky corner of your roof. The fungicidal treatment takes care of all invisible fungus growth underneath.
Low-Pressure Soft Wash
If you fancy a modern solution for your roof, our low-pressure soft wash has you covered! Usually, with high-pressure spraying, you run the risk of damaging your fragile roof surface. However, with a soft wash, we are able to both clean and sanitize your roof without causing harm to your roof shingles.
The soft wash treatment uses powerful detergents that kill fungal vegetation from its root and prevent any future growth. The result is that you get a dirt-free and exquisite-looking roof for years to come.
Why Choose Just Clean Roof Cleaning in Speke
Unmatched roof cleaning efficiency by a team of highly experienced professionals
Exceptional roof cleaning result at great pricing
Roof tiles, shingles, and other cement works are left undisturbed
The extra coating adds an effective moisture-resistant layer to your roof
Incredible change on your roof after our cleaning service
Request a Quote
Contact Just Clean roofing solution in Speke today and have your roof cleaned spick-and-span. Call us now on 01925 223547.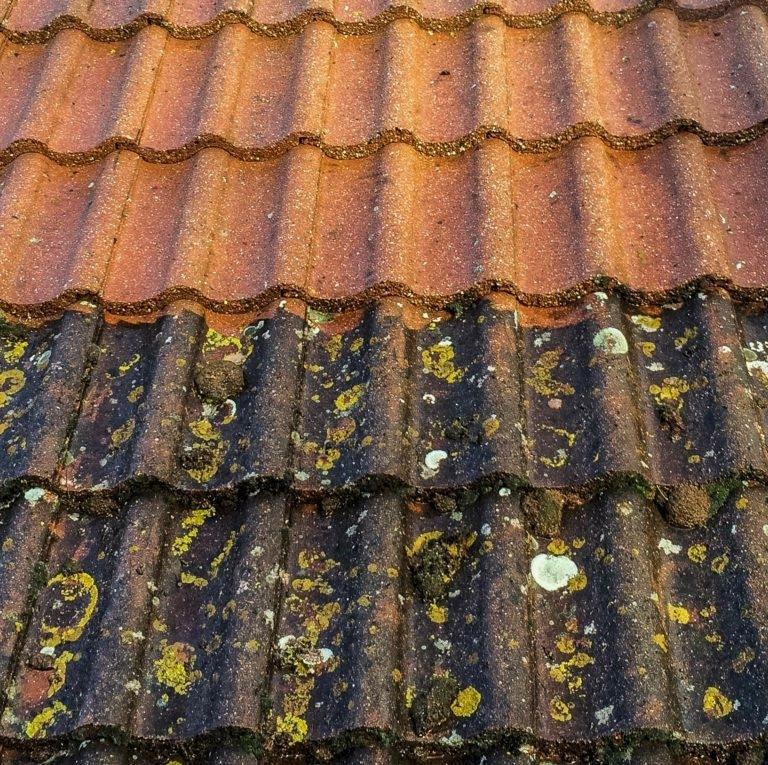 Before and After Roof Cleaning
Before
After