Roof Cleaning Altrincham
Have you ever noticed how some houses have beautiful and spotlessly-clean roofs? Perhaps, your roof is home to algae, moss, and lichen, making your Altrincham home a little off-putting.
If that's the case, then maybe it's time to call in the experts! With Just Clean roof cleaning services, you can get your roof to shine like the others, too. Being a Altrincham based company that offer professional cleaning services, we take pride in the fact that we cover the surrounding areas of Altrincham as well.
So, contact Just Clean today for some of our renowned services like jet washing, manual roof cleaning, and soft washing. Who knows, you might be looking at a free quote if you call us this instant!
Mossy roof? Leave it to Just Clean!
Clay and concrete roofs are known to face a common problem over the years- accumulation of moss, lichen, and grime. If you don't know the reason why, it's because these materials tend to get leaky over the years due to exposure. This, in turn, paves the way for other problems like clogged drainage and damaged tiles.  
If you notice that your roof is experiencing these problems, you know exactly what to do! Leave it to the experts like Just Clean and save the trouble of getting them done all by yourself! Our professionals will ensure that they clean and repair your roof exactly the way you want it to be! 
Services Just Clean provides
Low-Pressure Cleaning
For low-pressure cleaning, we use top-notch jet wash equipment to efficiently clean your entire roof. Jet washing your roof will ensure eradication of grime, moss, lichen, and algae completely. After this process, we will move on to your roof's treatment with a fungicidal wash. That's not all: we will also provide lasting protection to your roof by sealing it.
Manual Roof Cleaning
When it comes to our manual roof cleaning service, we do this the traditional way. Upon inspection of the roof and clicking pictures, we will explain the root cause of the problem before starting the process.
Then, our professionals will carefully remove all of the unwanted objects as well as the grime, lichen, moss, and algae. Yes, removal of all the debris will be done manually! After this, treatment with a fungicidal wash will follow. 
Low-Pressure Soft Wash
Another effective, efficient, and safe low-pressure method we use is the soft washing method. This helps sanitize your entire roof, leaving it fresh and clean. To start this process, all we have to do is remove the lichen, moss, and algae. 
Then comes the soft wash treatment. This method will ensure the elimination of all the spores as well as treatment of the fungal growth in the first place. With this service, you will be left with a spotlessly clean roof that will enhance the whole look of your beautiful home!
Why choose Just Clean in Altrincham
This business is family-run, so you know you are looking at a great value with us
Our professionals take the utmost care not to hamper the cement works or tiles
We ensure that your roof is clean and free from all unwanted growth like algae, moss, and lichen
You get to see visible results before and after our services
With the kind of coating we do, you get to waterproof and protect your roof 
Call us for a quote
Now that you know the kind of services we provide, why don't you give it a try? Contact us in this number 01925 223547 today and see your roof shining and standing out among all others!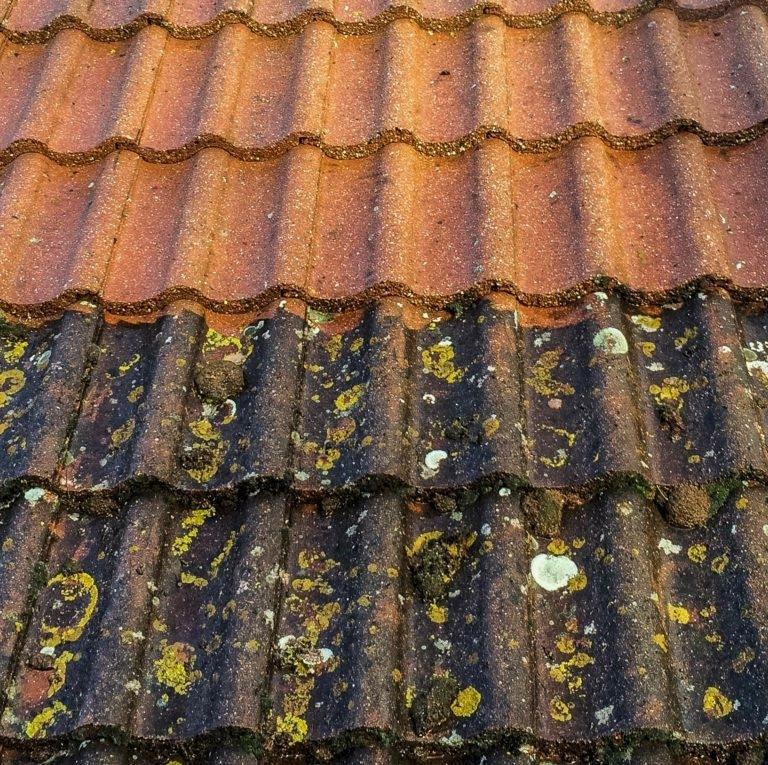 Before and After Roof Cleaning
Before
After