Roof Cleaning Cheshire
Is the roof of your home becoming an eyesore? Why not hire Just Clean?
We provide an expert roof cleaning service in Cheshire. Don't let moss, algae and lichen turn your house's roof into an unwelcome problem.
Just Clean Property Care isa roof cleaning service in Cheshire that specialises in jet washing, soft washing and manual cleaning for roofs that need some TLC. Our service can give your roof a makeover and return it to its former glory.
If Your Roof is Covered in Moss, It's Time to Have it Cleaned, request a quote, call 01925 223547
Concrete and clay-tiled roofs suffer a common problem over a period of time, moss, algae and lichen can build up. Roofs can become an unsightly mess as Roofing Materials can become porous through years of weather damage. Overtime Gutters can also become blocked and tiles can break.
You can save your time and effort by enlisting the help of a professional roof cleaning service.
At Just Clean Property Care in Cheshire can assist with any roof cleaning needs. Contact us today for a free, no-obligation quote.
Our Roof Cleaning Services for Your Cheshire Home
Hand Scrape Moss Removal
Our roof cleaning experts visit your home and scrape off the moss and algae build-up by hand. This is an alternative to pressure washing your roof. It may be an old fashioned technique but it is the most thorough when it comes to moss removal. Our team will have your roof free from all types of debris in no time. After the removal, we will apply anti-fungal agents to avoid the return of moss build-ups.
Soft Wash Treatment
Soft wash treatments are non-aggressive ways to treat roofs and walls.
A treatment solution of high purity biocide is sprayed onto roofs, this is a safe and highly efficient method of cleaning.It's also a great alternative to using high-pressure jet washers as the biocide still removes all moss and lichen that inhabits roofs.
Low Pressure Soft Wash
Using a low-pressure soft wash isa safe and effective method for cleaning and sanitising your roof. A low-pressure soft wash removes moss and algae and leaves your roof looking cleaner than ever. Soft wash treatments kill spores and treat embedded fungal growth that can be problematic to remove.
TheJust Clean team can provide a finished result that looks brand new.
Manual Roof Cleaning
Before any cleaning commences, we first assess the state of your roof. Our team then reports back to you with our solution for your roof issues. We will clean your roof to remove all debris including moss, lichens, snails and birds' mess. This is a traditional method that is structurally safer as the dirt and debris are removed manually, afterward the roof is treated with an anti-fungal wash.
Why Choose Just Clean Roof Cleaning in Cheshire
Roof tiles completely free of unsightly moss and grime
Tiles and cement work is left unscathed and in place
A completely fresh new look for your roof
Coating waterproofs and protects roof tiles
Reliable service and a family run business
Request a Quote
Contact Just Clean for the highest level of service when it comes to roof cleaning in Cheshire. Call our team today on 01925 223547.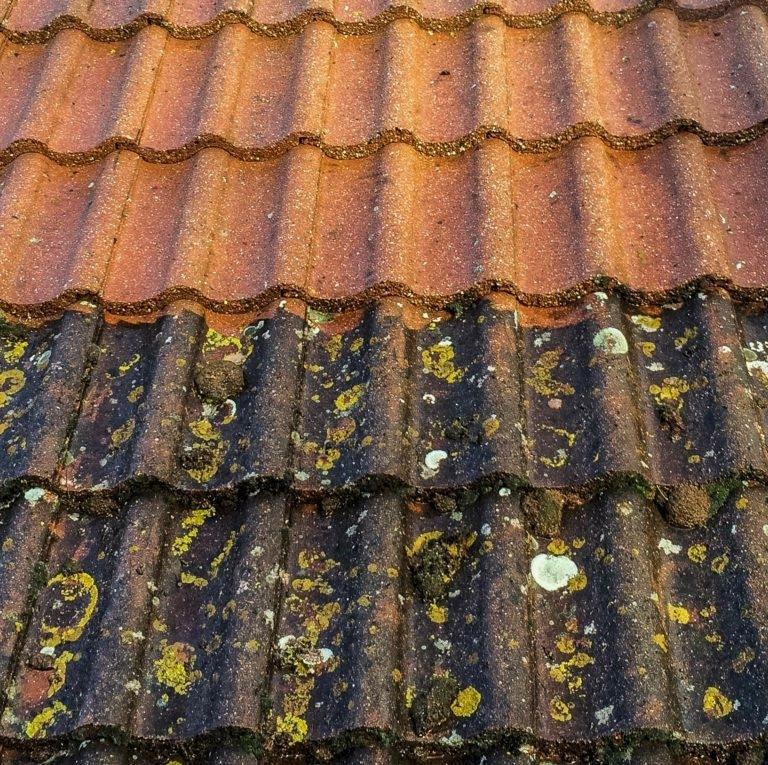 Before and After Roof Cleaning
Before
After