Roof Cleaning Leigh
What's a beautiful looking house if the roof is almost falling apart or covered in moss and algae, right? If you are from Leigh and looking for some professional roof cleaners to clean and protect your roof, you're on the right page!
Just Clean is a Leigh-based roof cleaning company that deals with services like manual roof cleaning, soft washing, and jet washing. With our team of professional roof cleaners, you will be amazed by how wonderful your home looks all the way from the top!
Why your roof needs cleaning
Most homes have roofs made of concrete or clay tiles. The one major problem that these kinds of roofs face is the unwelcome accumulation of lichen, moss, algae, and the sorts. This is the result of the roofing material becoming permeable due to erosion. If left unattended, this accumulation will lead to damaging of tiles and blocking of drainage.
If you don't want to go through the tedious labor of cleaning them up yourself, you are just one call away from Just Clean. What's more, if you contact us today, you can have a free quote! Don't be discouraged if you live in the surrounding area of Leigh, as we cover the nearby places, too!
Manual Roof Cleaning
Once you get in touch with us, we will make sure to arrive at your home to provide our manual roof cleaning services. For that, our team of professionals will inspect and click pictures of your roof. We will also loop you in on the various issues your roof is facing before we get the nod of approval. 
Then, we will start our traditional method of roof cleaning by clearing off all the dirt, debris, moss, algae, lichen, and other unwanted materials. All these will be done professionally and with great care so that no particles are left behind. On completion, we will finish it off with a fungicidal wash. 
Low-Pressure Soft Wash
If you want to go the modern way, we provide that service, too! The low-pressure method is completely safe and effective as well when it comes to cleaning and sanitizing your roof. But removing debris is not the only job here: we do clean the whole roof, leaving it next to flawless!
With the help of the soft wash treatment, we wipe out the unwanted organisms while also treating the root cause of their growth. This way, you get a sparkling clean roof that adds more to the beauty of your home!
Low-Pressure Cleaning
Another service we provide is the jet wash low-pressure cleaning. Our professionals use the best in class jet wash equipment to completely clean your roof. With this service, you will notice that all traces of moss, grime, lichen, and the sorts are gone. After jet washing, we will wash off the roof with a fungicidal wash. We will also seal the roof to ensure maximum protection in the years to come. 
Why choose us for roof cleaning in Leigh
Since we are a family-run business, you are in for a great value with us
You get to completely clean your roof tiles by getting rid of grime, moss, algae, etc
We make sure that all tiles and cement works stay in place
You get to see a big difference before and after our services
Coating your roof tiles ensures protection as well as makes it waterproof
Want to request a quote?
If you want to get in touch with us and have your roof get a complete makeover, you can always call in this number 01925 223547 and make use of our services.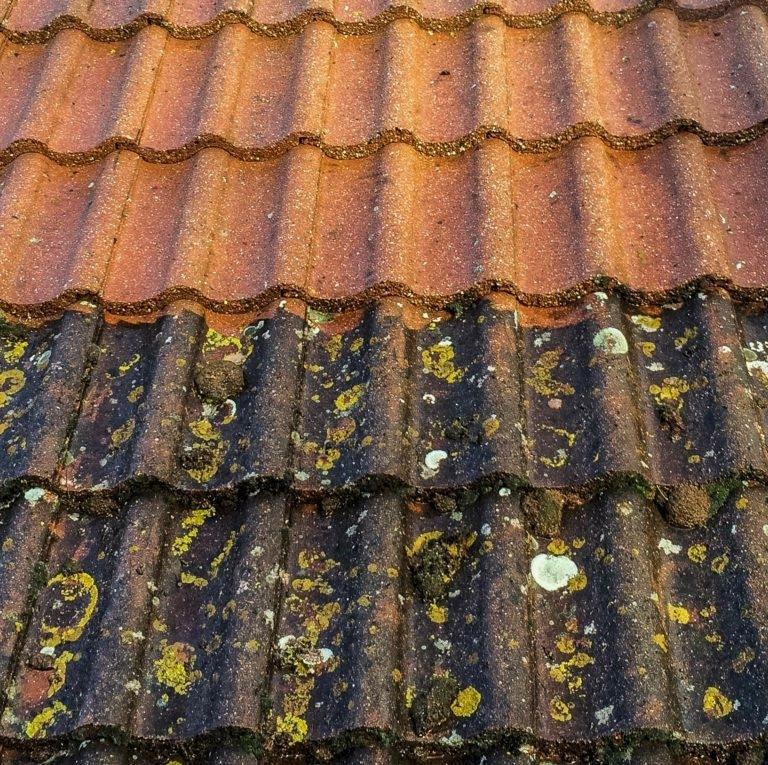 Before and After Roof Cleaning
Before
After