Roof Cleaning Liverpool
Is your Liverpool roof infested with algae, moss, and grit? Hire our professional roof cleaning service today and say goodbye to all those problems. Our premium roof cleaning services cater to the need of all homeowners in Liverpool. We specialize in all forms of roof cleaning, from manual cleaning to jet cleaning.
Give us a call today and get your Liverpool roof cleaned spotless!
Is your dirty roof spoiling your house appearance? Have it cleaned today!
Contrary to what many people believe, the roof plays a much crucial role than just offering shelter. It also insulates our house and helps maintain the sweet temperature level. This is one of the vital reasons why you should keep your roof clean and spotless.
Accumulation of dust and dirt particles can decrease the efficiency of your roof and also its service life. Without routine maintenance, your roof becomes prone to harsh weather conditions. As such, it can give way to cracks and curlings more easily.
Roof repairing is also not the most cost-friendly option. Repairing a roof from scratch can set you back by anywhere between £350 and £1000. That, my friend, is not a smart investment choice!
So, if you want to keep your house safe and also save some extra cash for a rainy day, our roof cleaning service is just the thing for you!
Contact us today and get your quote, free-of-cost! It will please you to know that we cover all the surrounding areas. So, if you are located anywhere near Liverpool, we will come to your aid.
Our roof cleaning service features
We are dedicated to offering you a top-notch roof cleaning service without any hassles. Here are some of the key features of our professional roof cleaning service:
Low-Pressure Cleaning
Low-pressure cleaning, as the name suggests, is suitable for removing common grimes. So, if you are dealing with lichen and algae, low-pressure cleaning is your ideal solution. We use bleeding-edge industrial grade washing equipment to clean your roof. You can set your mind at ease while using our service. Just sit back, relax, and watch us scrub your roof spotless!
Low-Pressure Soft Wash
This is similar to the traditional low-pressure wash. However, in this case, we also sanitize your roof from any future threats. So, in addition to simply removing any traces of moss and algae, we wash every nook and corner of your roof, leaving it sparkling clean. The primary advantage of this cleaning method is that it helps eliminate fungi growth from its root cause. The result is that you get a pristine roof with an effective long-term solution.
Manual Roof Cleaning
As you can imagine, a manual roof cleaning method is where we inspect your roof manually. We will manually examine your roof, take pictures, and explain the necessary actions before we begin cleaning. We will only proceed after you give us your approval. Our first step is to deal with all the large debris and animal waste that are easy to pick up and remove manually. Such large debris can clog the rain gutter if they are not removed before spraying water. Lastly, we give your roof an extensive fungicidal wash to remove any unseen foreign dirt and grimes. The ultimate result is that you get a pristine and polished roof, ready to protect you through another harsh and challenging season ahead.
Why Choose Just Clean Roof Cleaning in Liverpool
Great pricing from a family run business
Exceptional workmanship quality
Pristine roof free from all dirt, moss, and grime
Extra waterproof coating for a more future-proof solution
Astonishing visual difference before and after our roof cleaning service
Request a Quote
Contact Just Clean for a professional roof cleaning service in Liverpool. You can reach us through our number 01925 223547.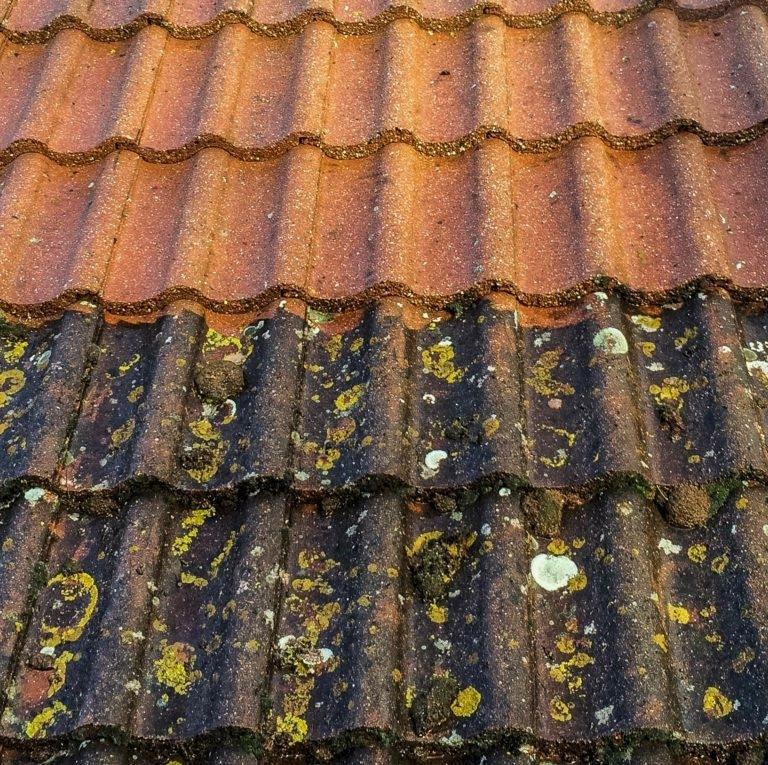 Before and After Roof Cleaning
Before
After