Roof Cleaning Lymm
Are you looking for a local roof cleaning company to clean your dirty roof? If so, there's no need to look anymore. Just Clean Property Care are the best roof cleaners in Lymm. We even extend our services to surrounding areas if need be. Nobody wants to have a dirty roof. If you feel that it's high time to clean your roof, we will come and do the job for you. 
If you think that you can clean your roof alone without any professional help, then think again. It's safer and even cheaper to hire a professional roof cleaning company like Just Clean Property Care.
Whether it's dirt, dust, algae, moss, or fungus, you need not worry. Our professional cleaning services can easily take care of these common roof-related problems. We will see to it that your roof is spick and span. After all, who wants their roofs to look dirty, right?
Is Your Dirty Roof Spoiling Your House Appearance? Have It Cleaned Today!
Let's be honest. Having a dirty roof infested with moss, algae, and dirt can bring down the looks and aesthetic of your house. But even this is not the real reason behind why you should clean your roof. 
You should know that the roof plays a very vital room in maintaining the temperature inside your house. If your roof is dirty and full of overgrowth and debris, it will become less effective in maintaining that internal temperature or even protecting your house from extreme and harsh weather conditions. 
But wait, there's more. If you ignore your roof for a long time and it starts to accumulate grimes and dirt, you're in bigger trouble. Why? It's simple. The more your neglect your roof, the easier it is for your roof to crack, break, or curl. When this happens, you'll need to spend more out of your pocket to not just clean it but also repair it. 
So, if you feel that it's time to give your roof a thorough cleaning, we're available for your needs. All you have to do is contact us. We will come and inspect and give you an accurate quotation along with a detailed report of what needs to be done. 
Our roof cleaning services
You must be wondering what makes our services better or why you should choose us. Well, the answer is quite simple. We always make it a point to do what we can to provide the best roof cleaning service in Lymm.
We offer three types of roof cleaning services. All these services are adequate for dealing with different types of problems. The results will be as clear as day once we're done cleaning your roof. The best part is, we offer attractive prices that won't require you to spend a lot. 
Here are the services we offer our customers:
Low-Pressure Cleaning
Do you notice a build-up of common grimes on your roof? These can be moss, algae or lichen. If your roof has these growths, then removing them is of paramount importance. The good news is our low-pressure cleaning is ideal for removing these grimes from your roof. We do this by using the top of line, industry-grace cleaners and washers.
Low-Pressure Soft Wash
This method is quite similar to our low-pressure cleaning. However, one important difference is that we sanitize your roof to protect it from future problems. Our low-pressure soft wash is the best way to rid your roof of moss. We also make sure to clean and wash every possible nook and corner.
Manual Roof Cleaning
Manual cleaning is a good choice when your roof has a lot of large debris and a collection of dirt that can be handpicked. These large pieces of debris can even block rain channels and gutters. Once we finish the process of picking up dirt, we make sure to do a fungicidal wash to remove all the unseen dirt and grimes from your roof.
Why Choose Just Clean For Roof Cleaning In Lymm
Our rates are very reasonable and affordable.
We always make sure to do a thorough and immaculate job.
Our services tackle issues like dirt, grimes, or even moss.
Skilled cleaners.
We also provide extra water-proof coating.
You will clearly see the difference. 
Request A Quote
Contact Just Clean today for a no-obligation quote. We believe in providing our customers with a transparent and ethical estimate with no hidden charges. Call us right now on 0800 7720 440 to book your roof cleaning service!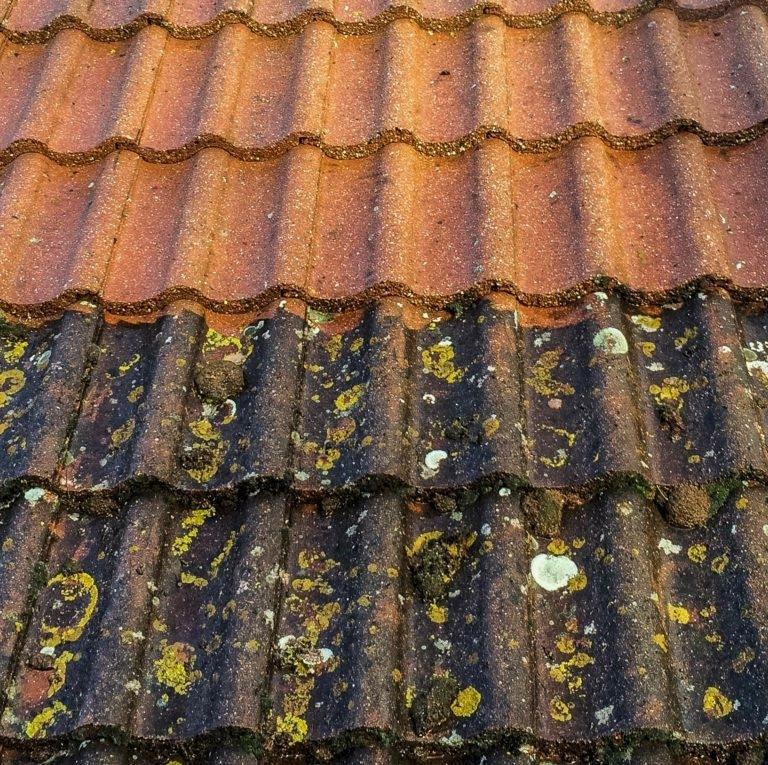 Before and After Roof Cleaning
Before
After