Roof Cleaning Runcorn
One of the best features of a house that makes it stand out is its roof: beautiful, shiny, and clean. But, do you feel that your Runcorn home does not have a roof that stands out? Maybe it is covered in grime, algae, moss, and lichen, making it look unattractive. 
At times like this, you can depend on Just Clean roof cleaning services. Why? Because we know exactly what it is that you are looking for! From soft washing to jet washing and manual roof cleaning, we can do it all! 
So, make your roof look attractive again and contact us today. Who knows, it might be your lucky day and get to secure a free quote!
Get your roof cleaned when it's covered in moss
No matter how expensive your roofing materials may be, all clay-tiled and concrete roofs face the same issue: bacterial growth. This growth is owing to the fact that the roof tends to become permeable due to long exposure. Because of this, the end result is blocked drainage and a number of damaged roof tiles. 
Seeing your roof in this condition is certainly heart-breaking and dangerous, too.
You may want to bear the entire burden yourself. But there is no guarantee that you can do a great job as the professionals will. Therefore, stop hesitating and contact Just Clean roof cleaning services to ease the burden! 
Being a Runcorn based roof cleaning company, we provide our best services at the most affordable rates. And that's not all; we also cover the neighboring areas of Runcorn. This way, you can benefit from our services even if you are not exactly from Runcorn!
Low-Pressure Cleaning
One of the services we provide is the low-pressure cleaning method that utilizes industrial-grade jet wash gear. This ensures efficient cleaning of your roof's entire surface. Jet washing helps eradicate all the grime and moss from your roof in less time. After washing it off, our professionals will treat your roof with a fungicidal wash. We will also seal your roof to make sure that it stays protected for long. 
Low-Pressure Soft Wash
Another effective and safe method for low-pressure cleaning is the soft wash method. Here, we make sure to eliminate all the tiny organisms while also cleaning the whole roof, leaving it completely clean. 
We then treat your roof with the soft wash treatment. This will take care of the spores dwelling on your roof. It will also treat the source of bacterial growth, making sure it doesn't grow back. In the end, you will find your roof spotlessly clean and adding more to your Runcorn home's beauty!
Manual Roof Cleaning
For our manual roof cleaning service, we will, first of all, examine your roof and click pictures. We will then brief you about the problems before taking on the job. After that, our professionals will remove all the debris, moss, algae, and other unidentified objects manually. This service will end with a fungicidal wash for treating your roof. 
Why Choose Just Clean
You get a clean roof at an unbelievably affordable price from this family-run business
Our professionals will clean your roof without any trace of algae or moss
None of the roofing materials will be damaged
By coating your roof, you get to waterproof and protect the tiles
You will see a visible difference after our services
How to get in touch with us
If you want your roof to shine and sparkle like it should, get in touch with us by calling on the number 0800 7720 440. With Just Clean, you can be sure to get the best experience ever when it comes to roof cleaning services in Runcorn.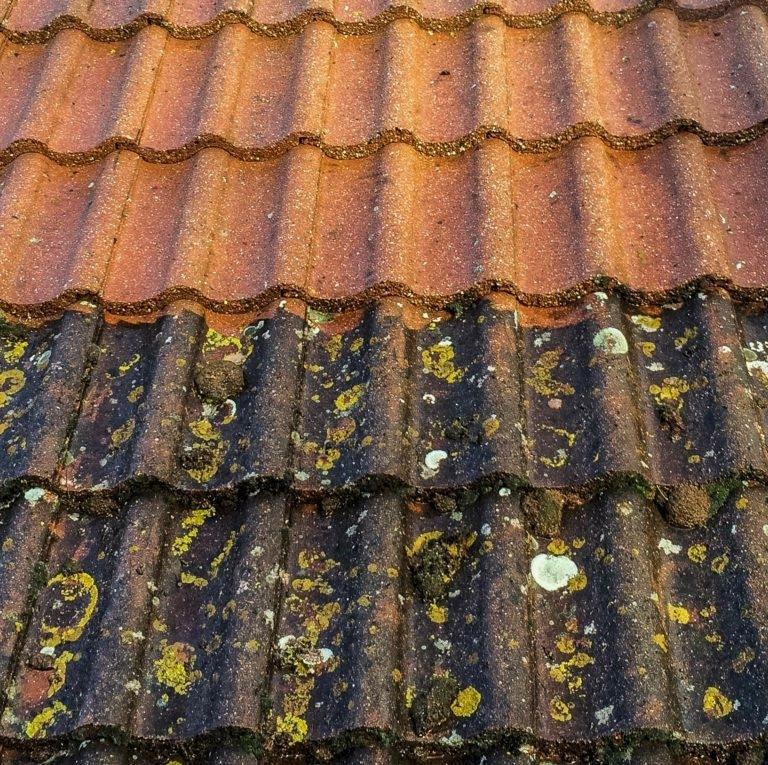 Before and After Roof Cleaning
Before
After