Roof Cleaning Wilmslow
Does your roof look like it needs a revamp? Giving your roof a good cleaning helps improve its aesthetic, adding value to your home while enhancing its curb appeal.
Our Wilmslow roof cleaning services remove organic materials like algae, lichen, grime and moss from roofing materials, restoring the health and structural integrity of the roof and your home.
Just Clean services offer professional roof cleaning in Wilmslow for small businesses, commercial properties, office buildings, and private residences. Our expert roof cleaners from Wilmslow utilise proven cleaning methods to deliver results beyond your expectations.
Contact Just Clean Property Care today and book your roof cleaning service with a no-obligation & free quote!
Cleaning Debris, Moss & Algae From Your Roof
Most concrete and clay-tile roofs start to degrade under the sun, wind, and rain. Nature takes its toll on your roof, and you need to clean it to avoid organics finding their way into permeated roofing materials. Lichen, grime, moss, and algae can take up residence on your roof, establishing themselves in a short time.
If you don't remove these materials, they block gutters, lifting roof tiles, causing ice dams and leaks in the home. Fortunately, Just Clean services give you an effective, efficient, and fast cleaning of your roof.
We remove any trace of organic material from the concrete or tiling, enhancing any residential or commercial building aesthetic.
Our roof cleaning services
At Just Clean, our professionals will provide you with the following services for roof cleaning in Wilmslow:
Low-Pressure Cleaning
We run professional cleaning teams using the latest in roof cleaning technology. Our low-pressure cleaning process won't damage your roof, removing all organic materials without removing tiles.
After clearing the roof, we power-wash it using biodegradable and eco-friendly products. The result is an anti-microbial finish that deters any organic materials from growing back.
With finish the clean by sealing your roof with an anti-fungal and antibacterial treatment designed to stop new algae, lichen, grime, and moss infestations from taking hold of your roof.
Low-Pressure Soft Wash
Remove all the organic materials and pathogens from your roof using our soft wash service. This service is ideal for the annual maintenance of your home, ensuring that your roof stays looking great.
We use world-class cleaning methods and technology to give long-lasting protection against algae, lichen, grime, and moss infestations.
Manual Roof Cleaning
If you're moving into a property with a severe organic growth problem in the roof, call Just Clean for assistance. We'll visit the site and inspect the roof, giving you a report on our findings. We'll let you know if we find any damage and make suggestions of how to repair problems.
After approving the cleaning, we'll get to work with manually removing every last piece of organic material from your roof. We finish off by power washing and sealing the concrete or tiles.
Why Choose Just Clean For Roof Cleaning In Wilmslow
Let us take the hassle out of cleaning your roof.
Biodegradable and eco-friendly cleaning chemicals.
Experts in organic material removal from roofs.
All cleaning solutions, equipment, and waste removal included.
Enhance the curb appeal of your house or commercial building.
Long-lasting protection against organic infestations.
Satisfaction guarantee.
No obligation quotes.
Request A Quote
Contact Just Clean today for a no-obligation quote. We believe in providing our customers with a transparent and ethical estimate with no hidden charges. Call us right now on 01625 724292 to book your roof cleaning service!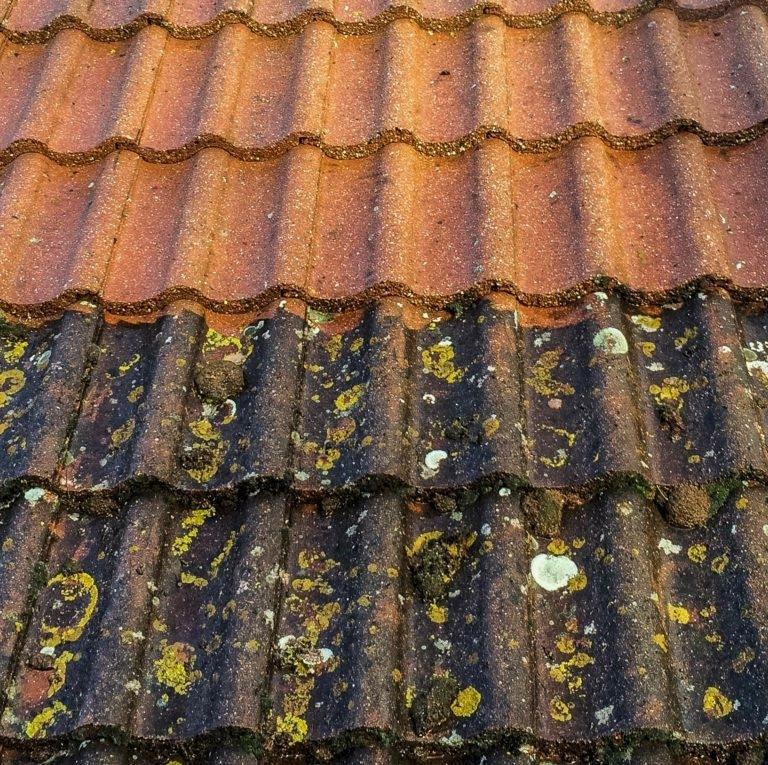 Before and After Roof Cleaning
Before
After